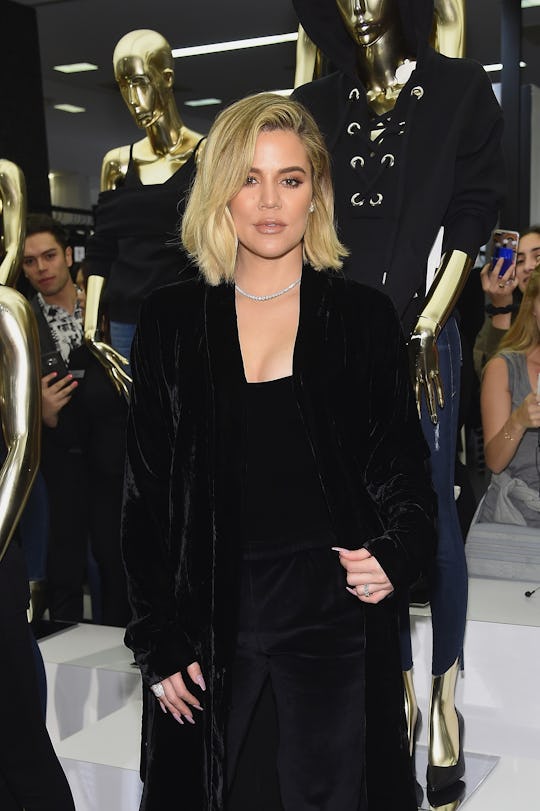 Jamie McCarthy/Getty Images Entertainment/Getty Images
It's Possible 'KUWTK' Will Depict Khloe Giving Birth
On April 12, 2018, Khloé Kardashian and Tristan Thompson welcomed their daughter True Thompson. Khloé's pregnancy has already been a part of Keeping Up With The Kardashians, from her initial announcement to the reveal that she was having a girl. So much of the Kardashians' lives are documented that it may have some fans wondering if Khloé will give birth on KUWTK, too. The delivery room has been depicted on the show before, including the times Kourtney Kardashian memorably assisted in her kids' birth by pulling out Mason and Penelope with her own two hands.
But just because some of Khloé's sisters have filmed their births doesn't mean she will, too. There doesn't appear to be an official statement from either Khloé or E! on the matter, but plenty of anonymous sources have weighed in. And the reports are conflicting: some publications have announced that the birth was totally camera-free, while others state that every major moment was captured in the days leading up. KUWTK airs Sundays on E!, and you might have to keep watching to see how much of Khloé giving birth is featured in the upcoming Season 15.
According to Us Weekly, multiple unnamed sources claimed that no official E! cameras filmed True's birth. In fact, their sources said that Khloé had been on a filming hiatus in the days leading up to the delivery, though it was possible the family's personal cameras or phones captured some of it.
Radar Online reported the same thing, with their source saying, "[Khloé is] the most down to earth of all the Kardashians and she wants a normal birth with no entourage, no cameras, no outrageous requests." They also said that Khloé's family wouldn't be present, only her doctor and Tristan. But all of these anonymous insiders are hard to take at face value, making their accounts more speculative than reliable.
And other publications have totally different takes on the situation. According to People, their sources confirmed that E! was filming at the Ohio hospital where Khloé went into labor. They also noted that mom Kris Jenner was there, contradicting Radar Online. Entertainment Tonight had a similar story. They cited "two sources close to the production of the reality series" who explained that small cameras were used in the delivery room to offer Khloé a sense of privacy while they filmed.
Entertainment Tonight also mentioned that Kris was there for True's birth, as were Kim Kardashian West and Kourtney. It seems like rumors are flying about every detail of Khloé's labor, from the presence of cameras to the type of cameras used to the number of people cheering her on. But none of the information is verified, because it hasn't come from official channels. It's just a small army of unknown sources sharing different variations on the same event.
The whole thing is complicated by the fact that video footage surfaced mere days before the birth that revealed Tristan had cheated on Khloé. Some are also wondering if the cheating scandal will be addressed on the show. If Khloé was filming ahead of the birth, then it's possible the news about Tristan will be featured in Season 15 as well. Once again, a source had an answer for Us Weekly:
They always discuss real life things on the show. They've never ignored a topic. It will definitely be brought up, but they don't know how much. They can film hours about it, but in the end, Khloé is one of the executive producers and will have final say on what actually makes air.
There's no definitive answer about whether or not True's arrival was caught on camera, but even if viewers miss out on that major moment, there are sure to be plenty more to come.