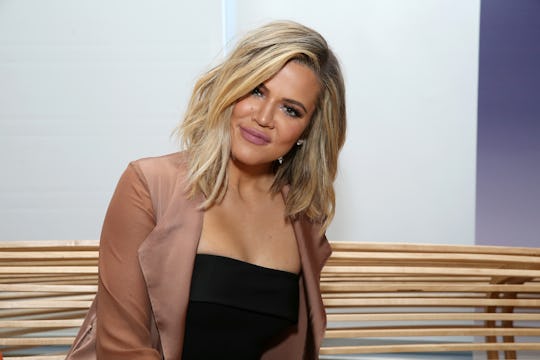 Cindy Ord/Getty Images Entertainment/Getty Images
Here's What Khloe Kardashian Has Said About Marrying Tristan Thompson
Could the world be about to witness a Kardashian baby boom? Only days after Kylie Jenner's reported pregnancy made headlines, Khloe Kardashian is also said to be expecting her first child. And if the stories are true, it could mean three new little members of the Kardashian-Jenner clan, as Kim Kardashian and Kanye West are reportedly also expecting their third child via surrogate. Fans are understandably freaking out over the news that Khloe could be pregnant, and they have lots of questions, like will Khloe Kardashian and Tristan Thompson get married now that they're having a baby? Although they're reportedly taking a huge step forward in their relationship, it doesn't sound like they're in any hurry to get married. And honestly, why should they be?
Kardashian may not have yet confirmed her pregnancy news (and neither her nor Thompson's reps have responded to Romper's requests for comment), but one thing she hasn't shied away from is speaking openly about her relationship with Thompson. In a recent interview with The Daily Mail's You Magazine, Kardashian gushed about her boyfriend of a year, and spoke about how being with him was "the best relationship" she's been in. And it definitely sounds that way: Kardashian told You Magazine,
My boyfriend is very protective of me. Feeling loved and validated and secure is a huge thing. Tristan is protective of my entire family, which is beautiful. And I love that everything we do is as a union. When he speaks, it's 'us' and 'we,' and that's important because it shows that you're sharing life. The best thing is that we're able to communicate about anything, and I think a lot of relationships don't flourish because people are afraid to voice their opinion, not wanting to rock the boat.
Kardashian and Thompson are clearly on the same page when it comes to shared values and building a life together, but she also made it clear that, for them, that doesn't necessarily involve tying the knot. Kardashian said,
I'm in the best relationship I've ever been in and it doesn't take a ring for me to feel that way. I believe in marriage and I want to be married again one day but I don't have a time frame. Why do people think that marriage equates to happiness? There are a lot of people in unhealthy marriages.
That's a reality Kardashian likely learned first-hand during her seven-year marriage to Lamar Odom. According to E! News, Kardashian revealed in a June episode of Keeping Up With The Kardashians that she faked an attempt to get pregnant during her marriage, because she knew their relationship was troubled. She said,
When I was doing my fertility treatments, they were more so for Lamar. I had to stop because there was much deeper stuff that was happening in our marriage. I knew that it wasn't the right situation to bring a child into, and I think I've done a lot of covering up for him, like even when it made me look like I was the problem. But I was fine taking on that burden on my shoulders because he had a lot of other deeper s**t to deal with.
It definitely sounds like the circumstances are very different this time around, though. Kardashian told You Magazine that she and Thompson were intending on having kids "when the time is right," and that she didn't have to wonder at all about Thompson's parenting skills — he's already a dad to his 9-month-old son, Prince, from a previous relationship. And, according to Us Weekly, in the Season 13 KUWTK finale, Kardashian revealed that Thompson wants a big family, and that they were already open to making that a reality:
He wants to have, like, five or six kids with me, and that's lovely. We could start at one and then grow from there. But now, knowing I'm not on birth control, it's really scary. It's like a really big step.
For some couples, getting married before welcoming a baby is important, even if that means a quickie wedding shortly ahead of their child's arrival. But for many couples, choosing to get married and choosing to have a baby are totally separate decisions. Either way, it's a personal choice that every couple has the right to make on their own, and Kardashian and Thompson are no different. It sounds like they've built a really healthy relationship though, and that they're both intent on starting a family together. And really, those are the things that matter the most, whether or not they plan to tie the knot.
Watch Romper's new video series, Romper's Doula Diaries:
Check out the entire Romper's Doula Diaries series and other videos on Facebook and the Bustle app across Apple TV, Roku, and Amazon Fire TV.