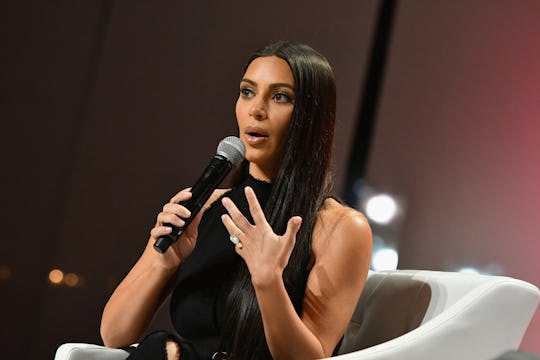 Slaven Vlasic/Getty Images Entertainment/Getty Images
Kim K Revealed Her Thoughts On Whether She'll Run For President One Day, & They May Surprise You
Kim Kardashian-West is one very busy (and powerful) woman. From starring on her family's reality show, Keeping Up With The Kardashians, while being a mom to three children all under the age of 5 and simultaneously running her own makeup line, KKW Beauty, she really does it all. But, there's a possibility that she might become even more powerful and busier. Following a new interview with CNN's Van Jones, people might now be wondering if Kim Kardashian will ever consider running for president one day based on her very telling answers to some very important questions.
To some people, Kardashian-West and politics might be the two things that don't seem to go together. Some of those critics might even be wondering what a reality star knows about politics. But, as you might remember, many said the same exact thing about President Donald Trump, a businessman turned reality star who's now running the country.
During an appearance on CNN's The Van Jones Show on Saturday, Kardashian-West opened up about her interest in politics and if she would ever run for office, according to People, and her thoughts were surprising. While Kardashian-West admitted that she does not currently have her sights set on any political office — "I don't really think that's on my mind," Kardashian-West said, according to People — she isn't ruling it out altogether. "Never say never," Kardashian-West told Jones.
Kardashian-West explained to Jones that the goal wouldn't necessarily be to get into politics or run for office, but to help others instead. According to People, Kardashian-West explained:
That's not what I'm going for. I just want to help, starting with one person at a time. I think sometimes, if more people would just put their personal feelings aside and talk about really important issues that have to be discussed, they can get so much more done.
And that is exactly what Kardashian-West did when she met with Trump late last month, according to Harper's Bazaar. In May, Kardashian-West visited the White House to discuss prison reform, according to Harper's Bazaar, and petition to pardon Alice Johnson, a woman who was given a "life-sentence in prison for a non-violent drug related crime" in 1997. The meeting worked; almost a week after their meeting, according to Mic, Trump granted clemency to Johnson, giving Kardashian-West a big start in her mission to help people "one person at a time." During an interview on TODAY with Johnson, Kardashian-West talked about this mission, saying:
People have been asking me "Are you getting in to politics?" Like no. I'm still doing me. But I enjoy this. This has fulfilled my heart and since I feel so fulfilled, why would I stop that?
So people might never get to see the day when they call her Sen. Kardashian-West, but they could just as well see her using her platform and her power as an influencer to have a positive impact on this world. And that is just as important as holding a position of office.
Although Kardashian-West will likely not get into politics, it is possible that she could be a first lady one day. Kardashian-West's husband, Kanye West, has flirted with the idea of running for office, according to NME, teasing on Twitter this past April about running for president in 2024, according to The Guardian.
Kardashian-West cited Trump's presidential win in 2016 as an inspiration for her husband during her interview with Jones, according to People. "It's the idea that anything can happen," Kardashian-West told Jones. She's right — anything can happen. Give it a few years and she (or her husband) could be running for office of any kind. As she said in her own words, "never say never."