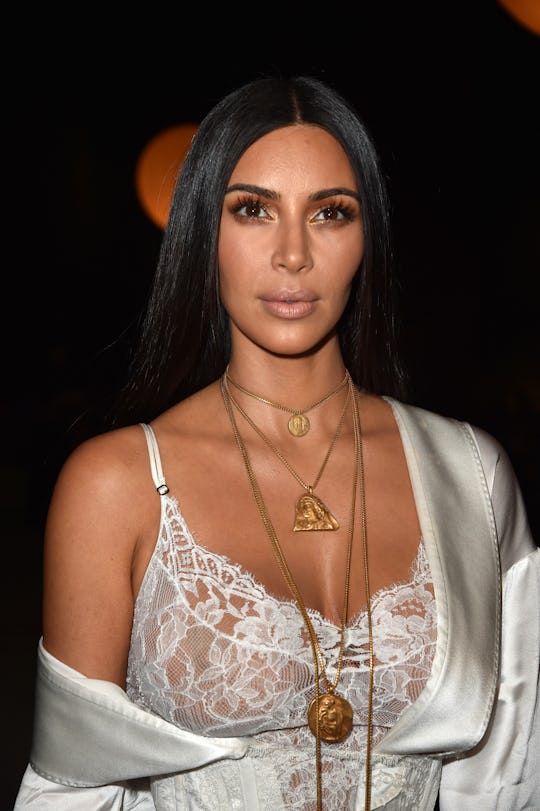 Pascal Le Segretain/Getty Images Entertainment/Getty Images
Will Kim Kardashian's Robbery Be In 'KUWTK' Season 12? The Mom Of 2 Is Taking A Break
Kim Kardashian West faced one of the most terrifying things someone can face. While in Paris (for business), she was robbed in the apartment she was staying in and held at gunpoint. Really. Scary. Since then (Oct. 2), she's remained out of the spotlight, rare for a Kardashian, but not strange for someone who just went through a truly traumatizing experience. With Season 12 of Keeping Up With the Kardashians returning on Sunday, fans are bound to ask if Kim Kardashian's robbery will be on KUWTK Season 12 episodes, or, if the family will continue to keep things private, for everyone's sake.
After the robbery news broke (via Kanye West leaving a concert mid "Heartless", claiming he had to go for a "family emergency), many wondered what the future of Kim Kardashian was. Buzzfeed pointed out that there were a lot of uncertainties that came with looking into the future of Kim's empire that she (and her family) built. One of those concerns being, would Kim return to the show that, arguably, thrusted her into the spotlight years ago? According to People magazine, a source has said that she has "zero desire to resume her old life" (per the unnamed source).
But does that mean that she'll take a step away from Keeping Up With the Kardashians, too? WetPaint writes that KUWTK finished filming without Kim, due to the incident in Paris. So, while we probably won't see anything from Kim during the remaining portion of Season 12, there is a chance we'll see the family talking about it and dealing with the very harrowing incident and the aftermath that followed.
So far, Kim hasn't been active on social media since the attack earlier in the month. The Sun noticed, apparently, that the star did unfollow certain people on Twitter, dropping her following count down by 13. That's all there has been on the public front from Kardashian.
Hopefully the star is able to get the time away from the cameras that she needs. This is a time for Kardashian to be supported by her family and given the privacy she needs from her fans. While we'd all love to hear from Kardashian in the return of Season 12 of KUWTK, it is more important for her to relax and take time off. She'll return to the spotlight if, and when she is ready.