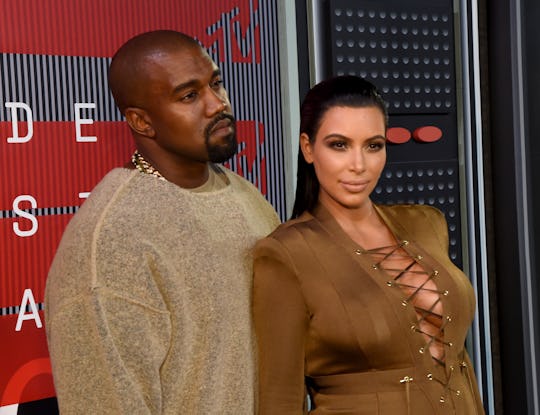 Larry Busacca/Getty Images Entertainment/Getty Images
Here's What We Know About Where Kim K's Surrogate Might Live
Kim Kardashian has made no secret of her desire to have a third baby with husband Kanye West, and while she has yet to confirm it directly, the couple has reportedly hired a gestational surrogate to help make it happen — and she may even already be pregnant. The woman's identity isn't known, although she is thought to be "a San Diego mom in her late 20s," according to Us Weekly. The fact that the surrogate will be giving birth to Kardashian and West's child no doubt makes her well-being incredibly important to the celebrity couple, but will Kim Kardashian's surrogate live with her and Kanye West?
The contract between the stars and their surrogate is said to include a number of restrictions and stipulations on the surrogate's diet and activities, and is meant to ensure that she follows all the usual pregnancy health guidelines, like abstaining from alcohol, cigarettes, and drugs; that she avoids hot tubs and saunas, eating raw fish, or handling cat litter. According to TMZ, the contract also outlines the two parties' financial agreement, with Kardashian and West agreeing to pay $45,000 in 10 monthly installments on top of a $68,850 deposit given to the surrogacy agency. Radar Online has also claimed that the couple has "spent well over $200,000," on "perks" for the surrogate, and the wealthy couple could certainly afford to have her move in if they wanted to. But money aside, it would be pretty unexpected for a surrogate to live with the intended parents.
Given the intimate nature of the relationship between a surrogate and the parents of the baby she is carrying, it seems pretty important that both sides feel entirely comfortable with whatever arrangement they've decided upon. And that also means that the amount of contact surrogate and intended parents have will vary in each case. According to surrogacy agency Worldwide Surrogacy Specialists, most arrangements involve surrogates and intended parents "keeping in fairly regular communication" with one another, including getting to know the surrogate's partner if she has one. But surrogates often have their own families and lives that they continue to live independently while pregnant, and according to surrogacy agency Circle Surrogacy, most surrogates receive medical care from their own OB-GYNs — often the same doctors who delivered their own children previously — and at their local hospitals, unless it is agreed in advance that they'll go elsewhere.
In fact, while it seems natural that intended parents may want to have a lot of contact with their surrogates while they are pregnant, Circle Surrogacy found that there are only four points at which it's specifically recommended for the two parties to meet: to meet each other initially, for the embryo transfer procedure, for the 20-week ultrasound, and for the actual delivery. Although there is often more frequent communication, some intended parents only meet their surrogates a few times, particularly if they live far away.
Beyond that though, it may not exactly be the greatest idea for a surrogate to actually live with the intended parents — even if it would be pretty luxurious. Firstly, it would mean uprooting herself and perhaps also her children to a new home temporarily, and living with people you don't actually really know — while also literally carrying their child — could be majorly stressful. Then there is the fact that it could also make it hard for the surrogate to maintain her own boundaries: given the amount of money involved, and the fact that the surrogate is carrying their baby, intended parents like Kardashian and West could start to feel like they have to right to make decisions on her behalf if she's living in their home, and it seems like it could be difficult to continue to see the surrogate as a whole person, instead of as just someone they've paid to be pregnant with their child.
Entering into a surrogacy relationship can't be particularly easy, and it seems like it would naturally be a pretty emotional process. Yet it's clear that it's also a really special one too, and while there is obviously a great deal of money involved, the decision to be a surrogate most often stems from a desire to help other couples have children. In a 2012 series on surrogacy from NPR, surrogate Whitney Watts explained that being a surrogate is "like you're carrying someone else's dreams." For another surrogate, Macy Widofsky, it became a way for her to help others while also being able to experience pregnancy again. She said,
I have very easy pregnancies. All three times have been flawlessly healthy, and I wanted to repeat the process, [but] my husband and I won't be having more children of our own.
Of course, neither Kardashian nor West have commented publicly on using a surrogate, and it's not known what kind of relationship they'd like to have with her. And no matter what their wishes were, if everyone agrees then that's really all that matters. But for most couples pursuing surrogacy, it seems that maintaining some distance and privacy would likely be a really valuable decision for everyone involved.