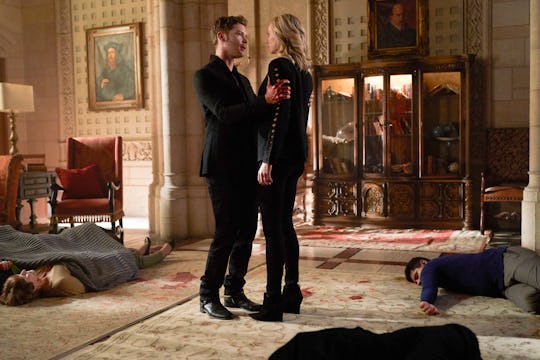 Bob Mahoney/The CW
Klaus & Caroline Are Reuniting On 'The Originals,' So Get Ready To See Some Fireworks
The final season of The Originals is here and while it's difficult to know that we'll be saying goodbye to this show very soon, it's also exciting to discover how this series will come to an end. One thing many fans are curious about is Caroline's long-awaited crossover to The Originals. Caroline and Klaus, also known as "Klaroline," have always had chemistry and it's a ship many fans have wanted to see sail. So will Klaus and Caroline get together in The Originals or will they just remain friends?
Understandably, the cast and showrunner Julie Plec are remaining pretty tight lipped on that subject, but it definitely seems like there's a strong possibility for sparks to fly between Caroline and Klaus again. In fact, Joseph Morgan, who plays Klaus recently spoke with TV Guide about the upcoming reunion. "[Caroline's] on the show for the final season for a number of episodes, and we have a bunch of scenes together," he teased. "Not everyone is going to be satisfied because there's no way that we could ever satisfy everyone, I think, but I'm certainly satisfied with the ending that those characters have." Morgan added: "I hope it pays tribute to the investment that people have made in them."
However, Plec also said, in the same interview, that fans shouldn't expect whatever happens between Klaus and Caroline to be an all-consuming love affair, like the ones they've seen on The Originals and The Vampire Diaries in the past. Both Caroline and Klaus have been through a lot — Caroline lost her husband, Stefan, and Klaus' whole life has been a mess — so it's pretty understandable that they're both coming into this with a lot of baggage. Plec also said that she couldn't guarantee they would have a "happily ever after." So don't expect a fairytale ending, necessarily.
"I wouldn't say that these star-crossed lovers get to collide and live happily ever after... I think that their relationship is more mature than that at this point," Plec said. "They've got a lot to learn from each other before we even see where that could go."
That being said, whether Klaus and Caroline end up together for good or not, fans can still expect a number of great Klaroline moments. As always, Caroline won't make things easy for Klaus, challenging him to be the best man he can be. Plec has also promised in a TVLine interview that fans can expect "a nice thread of Caroline as a guiding counselor to Klaus in terms of fatherhood."
Plec went on to say:
[Caroline] knows [Klaus] very well — better than some of the people in New Orleans. She understands the desire he has to be a good person in the name of his daughter, and she's very quick to recognize that he's not doing a very good job. She's a friend, she's a support system and she calls him on his sh*t.
Thus, fans can probably expect Caroline and Klaus to bump heads a few times over the course of the season, but that's what has always made their relationship so fun. Unlike almost everyone else around Klaus, Caroline has never been afraid of him. She has constantly challenged him and he's done the same for her. It'll be great to see these together on screen again after so many years (not counting that phone call they shared after Caroline's mom died). No matter how their story plays out, it'll probably be worth it just to see them together again, before The Originals comes to a close for good.
You can find out what's in store for Klaus and Caroline when the final season of The Originals begins on Wednesday, April 18 at 9 p.m. ET on The CW.
Check out Romper's new video series, Romper's Doula Diaries:
Watch full episodes of Romper's Doula Diaries on Facebook Watch.