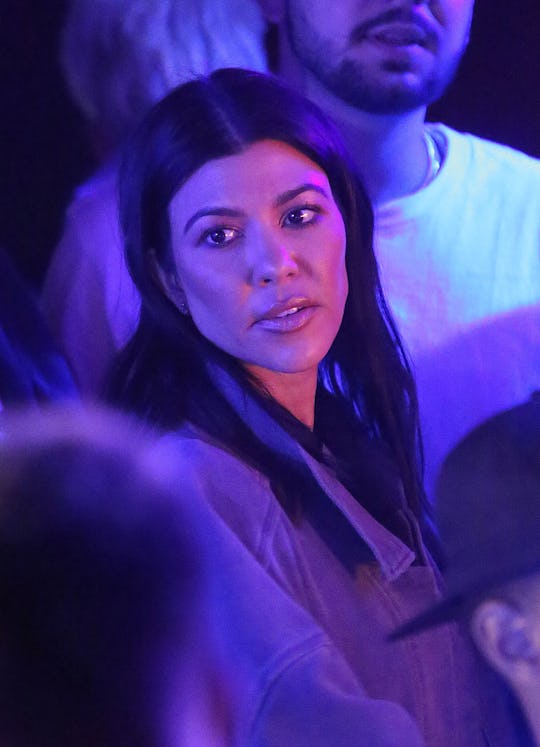 Jesse Grant/Getty Images Entertainment/Getty Images
Why Kourtney May Quit Filming 'KUWTK'
Keeping Up With The Kardashians is an institution, whether you love it or hate it. And it wouldn't be the same without all the sisters involved. With that being said, will Kourtney Kardashian quitKeeping Up With The Kardashians? She and her sisters are in the middle of a huge fight on the show.
In a clip released by the official KUWTK Twitter account, Kourtney indeed seems frustrated with her filming obligations — and the fact that she needs to be around Kim and Khloé. "I don't even want to be around my sisters," Kourtney says in a talking head. "They just don't have my back." She tells her sisters she's not "up for it," presumably meaning filming another season of the show. Khloé replies, "Then get out."
This was apparently said during a therapy session. Kourtney expressed her frustrations with KUWTK, and specifically Kim and Khloé, by saying that work came before family for them. "Everything to you guys, the show is more important, work is more important," she says. "We all have different priorities and working — it's not my top priority. It's never going to be."
Meanwhile, in a talking head interview, Kim was vexed as to why Kourtney was acting this way. "She can't commit to filming a season and sharing her life if she's not going to at all," Kim said. "We just want her to be held accountable and be responsible — that when you take a job and are getting paid to do something, you honor that. Because all of us do."
Kourtney has been through a lot; before she broke down during the therapy session, she admitted that her sisters give her anxiety. She also said that she wants to be more open about how she feels now, not just the "b*tchy, not-in-touch-with-my-feelings person I was before." Kourtney believes she is evolving as a person — which may contribute to how she is feeling about KUWTK.
Despite this blow out, though, there's no indication that she's actually quitting the show. There's been no statement on social media by Kourtney or any of her family members — and come on, there definitely would be if she were quitting. Perhaps, if anything, she will just be on camera less than usual this season.
Besides changing as a person, Kourtney has been going through a break-up with Younes Bendjima after dating for almost two years. Shortly afterwards, the 25-year-old model Younes posted on his Instagram Story that he felt like the media was making him "the bad guy" when photos of him with a Hooters waitress (who had been linked to the likes of Tyga and Justin Bieber) had circulated online.
"Once again you guys failed," he wrote on his story. "I'm not attached to this 'life' so you can't touch me. I know who I am and where I'm from and where I'm going and that bothers you." To respond, Kim and Khloé did what they do best: went to social media themselves to clap back. When The Shade Room posted a screenshot of said story, Kim commented: "Nice pics from your 'boys trip.'" Khloé commented: "Alexa play 'heard it all before' by Sunshine Anderson."
So, yeah, between going through a break-up and personal issues, it seems that Kourtney is overwhelmed at the moment. That doesn't mean she's leaving the show, though, and has not said anything official about that. Hopefully how her sisters have acted on social media shows Kourtney that they do have her back, and she'll be more willing to stay on the show. Whatever happens, I'm sure KUWTK will let us all in the know.