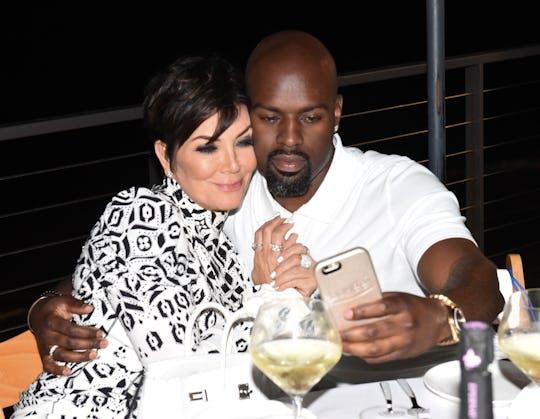 Vivien Killilea/Getty Images Entertainment/Getty Images
Here's Why Kris Jenner & Corey Gamble May Never Get Married
Kris Jenner is one of the most well-known moms on TV right now, thanks to her E! reality show, Keeping Up With The Kardashians and being the manager to her very famous kids. As such, fans are understandably curious about her love life. Throughout the past 11 years that KUWTK has been on TV, fans have watched as Jenner has talked about her very public marriages and divorces. And now that she has been dating boyfriend, Corey Gamble, for a while, people might be wondering: Will Kris Jenner and Corey Gamble ever get married?
Jenner and Gamble reportedly started dating in 2014, according to Us Weekly, so they have been together for quite a while now. But just because they've been together for what seems like forever in Hollywood doesn't mean that Jenner is looking to get married any time in the near future.
In a new episode of Laura Wasser's Divorce Sucks! podcast, the 62-year-old revealed that she isn't looking to rush down aisle and say "I do" again any time soon, but she isn't entirely ruling it out either, according to People.
"You know, you never say never, but I often say it's just not what I think I need to do again based on my past," Jenner told Wasser, according to People.
Jenner opened up about why she wouldn't want to walk down the aisle again, telling Wasser, according to People:
I'm in a really great relationship right now and I'm happy and I don't want to mess that up. I used to listen to people say that, by the way, and think "Oh, what a crock of you know what." I don't have the need to put on a long, white dress and walk down an aisle. I've done that. I've had the big wedding, I've had the babies and the kids — six of them, by the way. It's not like we need to do that again; my body wouldn't cooperate if it wanted to.
Jenner met her first husband, Robert Kardashian, in 1973 when she was only 17 years old, according to the Daily Mail. The couple got married five years later in 1978 when she was 22, according to Page Six, and welcomed their first child, Kourtney Kardashian, into the world one year later. After having four kids and experiencing 13 years of marriage, they got divorced in 1991, according to Page Six.
One month after her divorce was finalized in 1991, Jenner married Caitlyn Jenner (then known as Bruce), according to the Daily Mail. Her second wedding was a little different than her first one. "It was a very intimate, small wedding...," the momager said in 2013, according to the Daily Mail. "I had such a big wedding the first time and we just really wanted close family and friends [the second time]."
The couple was married for 22 years before their split in 2013, according to Us Weekly, welcoming their two daughters, Kendall and Kylie Jenner, in 1996 and 1997, respectively. And one year after their split, Kris Jenner started dating Corey Gamble, according to Cosmopolitan.
Considering her experience with marriage, Jenner obviously knows what it's like to have a wedding and based on her words, there isn't a huge desire for her to do it for a third time if they're happy as is.
This isn't even the first time that Jenner has talked about not wanting to rush down the aisle. During a 2017 appearance on The Ellen Show, Jenner told the show's host, Ellen DeGeneres, that she might not ever get married again. "You know, I've done that twice and it didn't work out so well," Jenner said, according to People. "So I don't know — you never know. I'm going to take a page out of Goldie and Kurt's book. Or Kourtney's book. I think as long as things are going well, why ruffle it up?"
Although she isn't in a rush to get married again, it's clear that Jenner is very happy with Gamble — even if she tends to keep quiet about their relationship, only choosing to share glimpses of their relationship during episodes of KUWTK instead of choosing to talk about it publicly.
During podcast appearance, Jenner told Wasser that she is very happy where she currently is in her relationship with Gamble. "I think that I just feel very grateful and blessed for my past experiences and I'm looking forward to my future...," she said, according to People.
So marriage probably isn't in Kris Jenner's future anytime soon. But with six kids, nine grandchildren (so far), according to INSIDER, and one very loving boyfriend, it's clear that she has everything she currently needs.