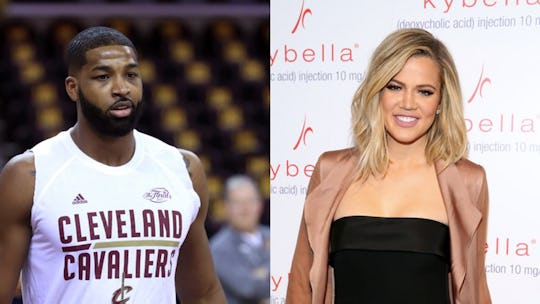 Ronald Martinez/Getty Images Sport/Getty Images/ Cindy Ord/Getty Images Entertainment/Getty Images
Tristan Thompson's Cheating Allegations Will Reportedly Be Addressed On 'KUWTK'
Quite a lot has gone down in Kar-Jenner land since the Season 14 finale of Keeping Up With The Kardashians wrapped up in March. Not one but three babies have been welcomed into the family: Chicago West, Stormi Webster, and True Thompson. So there's definitely going to be a lot of catching up to do when Season 15 finally rolls around. One questions that's probably on most fans' minds at this point, though, centers on Khloé Kardashian's NBA player boyfriend and whether KUWTK will address Tristan Thompson's cheating allegations, which surfaced just before she gave birth. In the past, the sisters have always tackled though tough topics head-on, so it certainly wouldn't be surprising if these rumors got some air time.
The Kar-Jenners are notorious for not only airing their family drama for the nation to see, but also not shying away from difficult conversations. And it seems like the allegations surrounding Tristan's alleged infidelity are no exception. As a refresher, two days before Khloé gave birth to her first child with Tristan, the Daily Mail and TMZ, respectively, published footage purporting to show someone who appeared to be Tristan with other women on separate occasions. Romper's request for comment from both Kardashian nor Thompson's reps have not yet been returned.
While the family has not spoken about the topic's potential air time yet, multiple sources have confirmed to Us Weekly that the cheating allegations will definitely be addressed. "They always discuss real life things on the show. They've never ignored a topic," a source who claims to be close to Khloé told the publication. "It will definitely be brought up, but they don't know how much."
Another source revealed to Us Weekly that Khloé allegedly promised True's father that his "cheating scandal won't be a huge story line" — despite the fact that he reportedly doesn't really want it brought up at all. So although it looks as if the cheating allegations will be addressed head-on, don't expect to hear from Tristan himself or get a confessional from the new dad on the matter. "He doesn't understand why it has to be addressed, but Khloé has said if it's not dealt with on the show, questions will continue to linger," the source explained, according to Us Weekly. They continued:
A few months back, People reported that cameras were at the hospital where Khloe gave birth, and that the delivery and her dealing with the aftermath of Tristan's alleged infidelity were filmed. With all this said, it seems like there's a pretty good chance fans will see how Koko processed it all at the time.
Neither Kardashian nor Thompson have yet to address these reports head-on, although Kris Jenner and Kim Kardashian certainly have, to certain degrees.
"Like, I don't even know how to describe it, besides it's just so f*cked up," Kim told Ellen DeGeneres toward the end of April. "We really were rooting for Khloé, and we still are. She's so strong and she's doing the best that she can. It's a really sad situation all over."
Kris Jenner was on The Ellen DeGeneres Show in early May, when the talkshow host brought up the videos. "The whole thing with Tristan ... Like, that was unexpected, I would assume, for everybody."
"Very unexpected," the momager replied. "But Khloé is a-mazing, I'm so proud of that kid. I get so choked up because she's such a good mom and honestly, I get so emotional."
If KUWTK really does tackle Tristan Thompson's cheating allegations, it'll definitely be refreshing to hear what Khloé has to say about it. Because honestly, that's what it really comes down to: Khloé and Tristan. And if they've been able to work through these issues together and are at a good place, then no one else's opinion really matters.