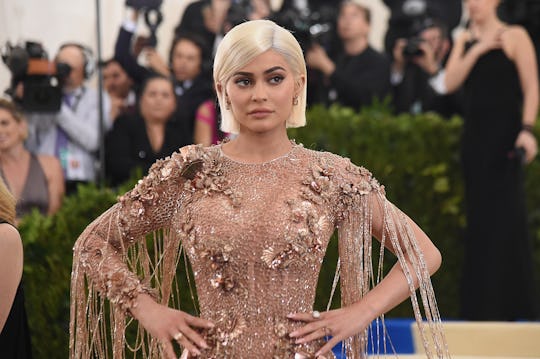 Nicholas Hunt/Getty Images Entertainment/Getty Images
Fans Want To Know: Will Kylie Jenner Air Her Birth On TV?
After months of online and media speculation, Kylie Jenner confirmed late-afternoon on Super Bowl Sunday that she is, in fact, a mother. First via a statement posted on Instagram, and then via a touching video posted to YouTube, Jenner let the world know that she gave birth to a healthy baby girl on Feb. 1, 2018. But given the intimate video, fans are wondering if Kylie Jenner will air her birth on TV. While nothing is for certain, and certainly not confirmed, given the reality television prowess of the Kardashian/Jenner family, no future plan is off the proverbial table.
Then again, given the secrecy of Jenner's pregnancy, it's possible that the new mother might want to keep some things, including the birth of her daughter, to herself. In her initial statement posted via her Instagram account, Jenner gave her fans an inside look in to why she decided to keep her pregnancy, and her daughter's birth, a secret. She writes:
"I understand you're used to me bringing you along on all my journeys. My pregnancy was one I chose not to do in front of the world. I knew for myself I needed to prepare for this role of a lifetime in the most positive, stress free, and healthy way I knew how. There was no gotcha moment, no big paid reveal I had planned. I knew my baby would feel every stress and every emotion so I chose to do it this way for my little life and our happiness."
As any new mother knows, your baby can still feel your every stress and emotion, even after they've exited your womb. In fact, according to What To Expect, a study published by the journal Psychological Science found that babies not only pick up on their mother's stress, but they "show physiological changes of their own that correspond to their mom's stress."
So if Jenner was concerned about her child when it was a growing fetus, she is certainly going to be concerned now that her baby is born and out into the world. And even though she is no longer pregnant and has already given birth, it doesn't mean she won't receive online hate and/or judgment for how she decided to experience labor and delivery. After all, 64 percent of moms feel that their parenting decisions are judged at least sometimes by other moms. And when the data is broken down even further, researchers found that 24 percent of moms feel their decisions are always judged by other moms, according to data from The Research Moms.
And guys, those moms aren't as famous as Jenner. The online hate she receives on a daily basis is unbelievable, and is sure to only continue now that she's a mother.
But there are a few very intimate moments in her pregnancy/birth reveal video that could make an argument for a future reality television show spot, highlighting the birth of her daughter.
For example, at the end of the video (and even though there is a black screen and viewers can't actually *see* what is going on) you can hear Jenner being coached through the final pushes of delivery. And, after the last push, you can hear her daughter's first cries. That moment is an intimate one; one that, as a mom myself, I'm not entirely sure I would want to share with the world. But then again, when you share the rest of your life with the world, is it really a big deal to share the birth of your child? Of course, that's a question only the new mom, Jenner, can answer for herself.
In the end, perhaps it doesn't matter if fans see more of Jenner's journey toward motherhood. I mean, the 11 minute reveal video was enough to emotionally gust us all. Could we really handle an actual, full-blown episode? Or multiple episodes? 2016 has been emotionally taxing enough, my friends.
Check out Romper's new video series, Bearing The Motherload, where disagreeing parents from different sides of an issue sit down with a mediator and talk about how to support (and not judge) each other's parenting perspectives. New episodes air Mondays on Facebook.