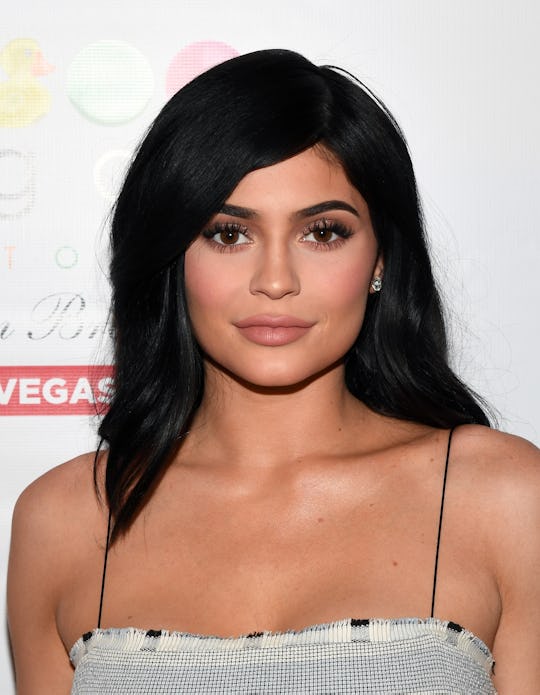 Ethan Miller/Getty Images Entertainment/Getty Images
Here's Why Kylie Jenner Might Reveal Her Rumored Pregnancy On 'KUWTK'
On Christmas Day, many Keeping Up with the Kardashians fans woke up expecting to finally see Kylie Jenner's reported pregnancy revealed as the big finale to this year's Kardashian Christmas card. When Dec. 25 came and went with no pregnancy announcement, they quickly started coming up with alternative theories. Now that we've ruled out a Christmas card surprise, the race is on to see where and how the youngest Kardashian-Jenner will announce her reported pregnancy. Will Kylie Jenner reveal her pregnancy on KUWTK, instead?
It's certainly an option. The famous family took a mid-season break over the holidays, but they'll be back on E! in early January, and they have a habit of saving important announcements for their viewers. Kim Kardashian, for instance, first shared the news that she was expecting her third child (using a surrogate) on the show earlier this year. Kourtney Kardashian also used the reality TV platform to announce her third pregnancy in 2014, according to E! News, and Khloé Kardashian told fans just recently on Twitter that they could expect to see her original pregnancy announcement coming up on the show.
A Jenner pregnancy announcement on Keeping Up with the Kardashians, of course, would definitely boost viewership for the show. Actually, even just the idea that Jenner might announce her rumored pregnancy on TV would likely be enough to drive more people to watch the show.
However, Jenner might choose to announce her rumored pregnancy on Instagram, like Khloé did earlier this month. With a good 100 million followers and fans watching her every social media move, an Instagram reveal would allow Jenner to control exactly how and when she shared the news. And considering how long fans have been waiting for an announcement, confirmation on Instagram would likely go viral immediately. (Personally, I'm hoping Jenner goes all out on social media and posts a Beyoncé-esque picture to mark the occasion.)
Some fans even think that Jenner could announce her reported pregnancy in a photo shoot for Love, since she's the cover star of the magazine's first 2018 issue (and that's an exclusive story that any magazine would probably kill to have). However, if that theory turns out to be correct, fans would have to until Love's spring/summer issue is released to learn more about the rumored pregnancy.
At this stage of the game, I don't think Jenner's fans even care how the youngest Kardashian-Jenner chooses to confirm the news — they just want to know whether she's pregnant or not. They are legitimately waiting for any kind of sign from Jenner or her family:
Even if Jenner hasn't given fans an actual pregnancy announcement, many think she's been dropping hints in her Snapchat pictures and Instagram shots. After she shared a photo on Snapchat of blue and pink cell phone covers along with the caption "Which one? I'm thinking blue," fans were certain that she was letting them know that she was expecting a baby boy. And when she shared a shot of three cinnamon buns in the oven — buns in the oven, guys — people were sure that she was referring to three pregnancies: Khloé's, Kim's, and her own.
For now, however, Jenner has yet to confirm or deny anything related to a pregnancy, so this is all just speculation. If Jenner is pregnant, it seems like she'd like some privacy for the time being, and that she'll share the news with her fans when she's good and ready to. Until she does, might I suggest trying to forget about the mystery at all — so that if and when she does announce it, it comes as an even bigger surprise.
Check out Romper's new video series, Romper's Doula Diaries:
Watch full episodes of Romper's Doula Diaries on Facebook Watch.