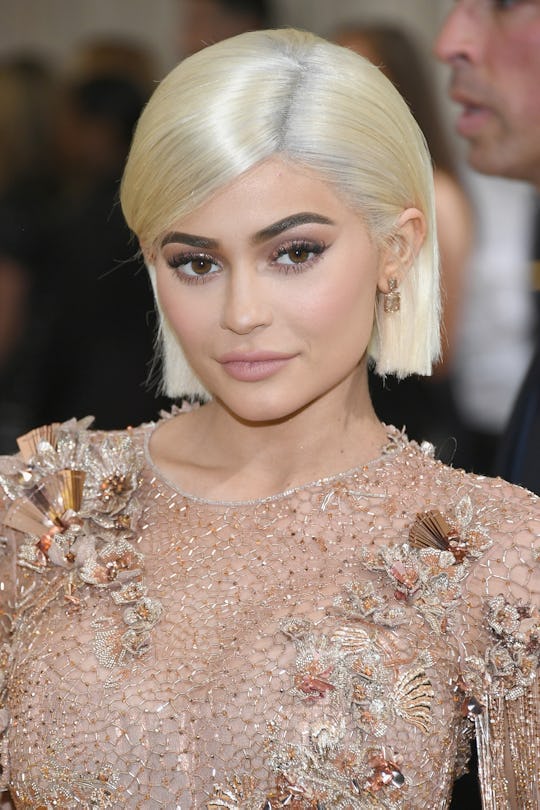 Dia Dipasupil/Getty Images Entertainment/Getty Images
Fans Think They've Finally Figured Out When Kylie Jenner Will Reveal Her Pregnancy
Ever since September, the world has been fully engrossed in Kylie Jenner Baby Watch 2017 and fans have come up with theory after theory about how this news may finally be revealed. Most recently, they thought Kylie would confirm her rumored pregnancy on the midseason finale of Keeping Up With The Kardashians. But when then that didn't happen, fans quickly theorized that the 20-year-old reality star would showcase her growing bump in the family's annual Christmas card. Of course, that didn't happen either. So now, fans are pretty convinced that Kylie will reveal her rumored pregnancy on New Year's Eve and here's why.
Despite Kylie having literally not said or done anything that might give the tiniest bit of insight into whether or not she's actually even pregnant, fans have been digging for clues for months now. Literally, even a Snapchat she posted holding phone cases was analyzed to hold some kind of meaning that she's having a boy.
But, unlike her older sister Khloe Kardashian, who finally confirmed her own pregnancy last week, Kylie has kept fans in suspense. But, after a set of paparazzi photos taken back in September resurfaced, published by X17, there's a new fan theory floating around, and it could change everything. While it was previously disclosed that Kylie is allegedly due around the same time as Khloe, the photos from September appear to show Kylie sporting a fairly big pregnancy "bump," as fans have noted.
The photos, of course, have yet to be validated as untouched, unedited, or even verified as actually showing Kylie, fans are still taking them to mean that she could be further along than expected. Romper's request for comment from Kylie's reps on the paparazzi photos was not immediately returned.
Logistically, the photos of Kylie from September might not actually show any kind of "bump" at all. But, it actually wouldn't be too surprising if she was further along that previously suspected, should these rumors be true. Truly, the Kardashian-Jenner family is notorious for their drama, secrets, and bombshell revelations.
And even though it's been three grueling months since the news of Kylie's alleged pregnancy broke, she has yet to even mention it, nor has anyone in her family, even on their show. Seriously, KUWTK is known for being a space where members of the family confirm or deny many pertinent rumors. Yet, Kylie has been noticeably absent for the majority of the show's current season, further stirring the pot.
So, now that these old photos are making a reappearance, it's actually a legitimate theory to wonder if Kylie might just wait until she gives birth to announce her pregnancy. Or, maybe it'll happen around New Year's.
Fans Are *Really* Convinced
Since the initial pregnancy news got out in September, not only has Kylie not said anything, but she's hardly done anything in the public eye, either. She was barely on the first half of Season 14 of Keeping Up With The Kardashians, and her social media presence has drastically changed as well. Instead of her usual full-body shots, Kylie has switched to throwbacks, close-up selfies, and promotional shots for her makeup line.
Additionally, an anonymous source recently told People that she isn't leaving her house very often, either. "For everything that she wants done, like her nails, she has people come to her house," the source told the publication, continuing, "she rarely leaves her house, and it's mostly for doctor's appointments." So, with all those doctor's appointments and staying at home, perhaps Kylie really is further along than Khloe, or, as some fans seem to think, maybe she's even already had her baby.
Even if those old pictures hadn't resurfaced, this fan theory would still hold some weight. For days, fans were kind of expecting Kylie's rumored pregnancy to be announced on the Kardashian family Christmas card. Every day in December, Kim Kardashian had been revealing a snapshot of the family's photo shoot, and fans were convinced that the last picture on Christmas Day would feature Kylie and her alleged bump, and we're pretty livid when it didn't.
So, considering that that didn't happen, it makes sense for fans to move on to the next major holiday as another possible announcement day. And if this theory flubs too, well then I guess there's always Valentine's Day.
Check out Romper's new video series, Romper's Doula Diaries:
Watch full episodes of Romper's Doula Diaries on Facebook Watch.