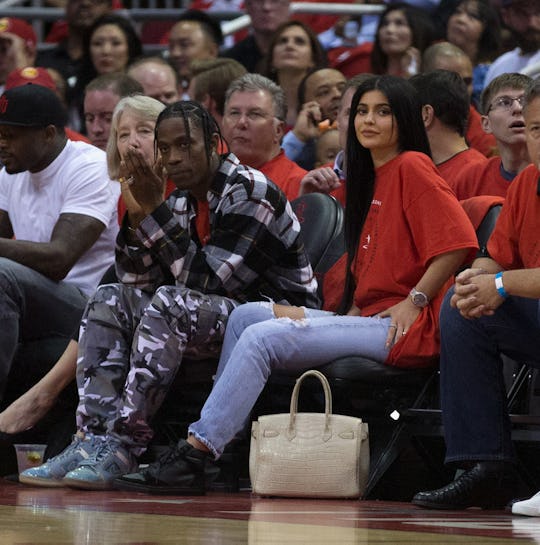 Bob Levey/Getty Images Sport/Getty Images
Now That Baby Jenner Is Here, Will Kylie & Travis Get Married?
The Kar-Jenner family has officially confirmed the one remaining pregnancy rumor that has had fans in a tizzy this year in the most dramatic way possible, proving that even the most ~extra~ pregnancy announcement has nothing on a surprise baby. Having skirted the question of her pregnancy for months, reports emerged that Kylie Jenner went into labor, ahead of an official announcement that yes, she had delivered a healthy baby girl on Feb. 1, 2018. As you would expect, the latest news only created more questions. For example, now that the news is confirmed, fans keep asking if Kylie Jenner and Travis Scott will get married. The media has mixed opinions on the topic, and since her announcement makes no mention of Scott, fans are even more confused.
Following sister Khloé Kardashian's confirmation in late December that she's indeed expecting a baby with boyfriend Tristan Thompson, Kylie has now leaped ahead to the next stage: delivering the newest member of the Kardashian clan. The 20-year-old makeup mogul posted a touching reveal on her Instagram account, not only announcing the birth of her baby girl but giving fans her reasoning for keeping it under wraps.
Kylie's long-awaited reveal has fans of the famous family anxious for information about this next chapter of her life. Because Kylie noted in her birth announcement that she knew her baby would "feel every stress and every emotion," she kept her pregnancy hidden from her fans "for my life and our happiness." But who is "our"? Her and her daughter? Her and Scott?
There hasn't been any official word on any such plans, but that doesn't mean they don't have something planned and are keeping under wraps like they did with Kylie's pregnancy. In fact, the holidays are a very popular time for proposals and weddings so it wouldn't be out of the question for the two to make things official around this time of the year, and perhaps prior to and/or even on Valentine's Day. Of course, we'll have to wait and see what happens like we did with Kylie's pregnancy rumors.
But, if we're to believe tabloids and unnamed sources, it doesn't seem like marriage is on the table right now. As TMZ reported when Kylie's pregnancy rumors broke, the two were "not even close" to being ready for marriage, and many more outlets passed on this insider information. But Hollywood Life told a very different story with its report that Kylie was allegedly very ready for marriage. An alleged inside source told the outlet as much in September, saying:
Kylie wants an amazing wedding and wants to be married as soon as she loses all of her baby weight. She wants her child to have a father that is always there and someone that will make their relationship forever. She has seen her family and her exes deal with heartache and broken homes and she wants to have the family life that is a success. So to be married is something she wants very soon and she will be very excited for Travis put a ring on it.
Providing even more contradictory information, Hollywood Life later reported that a source told In Touch Weekly that Travis was not ready for marriage. The source reportedly stated that the two are not on the same page, saying: "Since discovering she was pregnant, Kylie has been pushing Travis to marry her. But Travis isn't ready to walk down the aisle yet and said no."
None of these reports have been verified by anyone in the family and Kylie didn't address the idea of marriage in her pregnancy announcement, so fans will just have to hold out for official word. As frustrating as waiting can be, it is really up to the couple when they let the public know when they feel ready to do so — if that's what they have planned. Only time will tell. But the question has already been dwarfed by much bigger news: a new baby.
Check out Romper's new video series, Romper's Doula Diaries:
Watch full episodes of Romper's Doula Diaries on Facebook Watch.