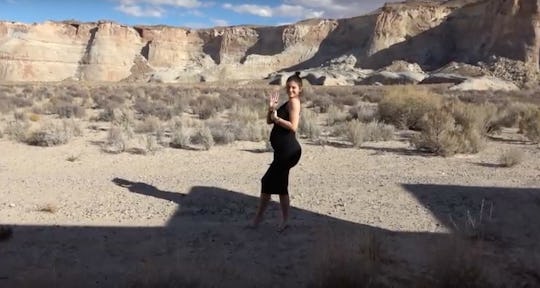 YouTube
Will Kylie Jenner's Birth Announcement Video Be A TV Special? There Is Enough Footage For It
If you haven't watched all 11 minutes of the Kardashian clan anointing Kylie Jenner's baby, and heralding ten months of pregnancy in, yes, as many minutes (so much to catch up on!), I recommend you watch Kylie Jenner's birth announcement video-slash-nouveau TV special, "To Our Daughter," in its entirety in a comfy chair while wearing a full face of makeup.
Ever the savvy entertainers, the birth announcement has been rumored to feature in an upcoming episode of Keeping Up With The Kardashians, but will it justify its own special hour? There is certainly enough footage for a spinoff, if they want, per the YouTube video Kylie posted of her pregnancy.
In fact, with the birth of her daughter, Kylie Jenner is able to move past her key concern: keeping her pregnancy private while she was on that journey. As she posted in the announcement on Instagram:
I'm sorry for keeping you in the dark through all the assumptions. I understand that you're used to me bringing you along on all my journeys. My pregnancy was one I chose not do to in front of the world. I knew for myself I needed to prepare for this role of a lifetime in the most positive, stress free, and healthy way I knew how. There was no gotcha moment, no big paid reveal I had planned. I knew my baby would feel every stress and every emotion so I chose to do it this way for my little life and our happiness.
The Cliff's notes of which are, essentially, "let me have this moment, and I'll share it with you when I'm ready."
Given that the Kardashian "key cast members" make $500,000 per episode of Keeping Up With The Kardashians, money-minded fans wouldn't be remiss in imagining that Jenner and her boyfriend Travis Scott might like to spin a special TV "moment" out of their journey. Because for sure this kid is going to be in the spotlight now they're Earth-side.
The safe arrival of their daughter also removes an obstacle to the so-called "reality watch value" of Kylie's pregnancy — we avoid making the soon-to-be-named baby's delivery a plot point. Instead, it's about the anticipation and happiness in the leadup to that thrilling moment on Feb. 1, 2018. And indeed, the YouTube, posted on Kylie Jenner's official channel, contains no "description" as such. The proud mom clearly wants the video to speak for itself.
The video begins with Kylie's mom, Kris Jenner, holding Kylie in her arms in the hospital immediately after delivery. Then the video takes in sweet pregnancy milestones shared by Travis Scott and Kylie Jenner that all moms and dads will be familiar with.
A theme throughout the video are the hopes and dreams that the entire clan have for its newest member; the video reads as almost a movie trailer for the tiny Jenner — coming February 2018! Given that Keeping Up With The Kardashians airs on the E! Network, it is certainly not out of the question that Kylie Jenner would let director and friend Tyler Ross build the snippets of her pregnancy into a full hour of television — to give fans what they want, basically. Currently, though, there have been no announcements for an air date, beyond the standard series episode "We're Expecting!" set to air on Feb. 25, and possibly "Kris Jenner's Legacy," which airs on Feb. 11, and could feasibly revolve around the unearthing of her own birth tape, used in "To Our Daughter."
Whatever Kylie Jenner and Travis Scott decide, it's safe to say that we will be seeing more of the stealthiest Kardashian in the coming months, and not less. Because we have a lot to talk about.
Check out Romper's new video series, Bearing The Motherload, where disagreeing parents from different sides of an issue sit down with a mediator and talk about how to support (and not judge) each other's parenting perspectives. New episodes air Mondays on Facebook.