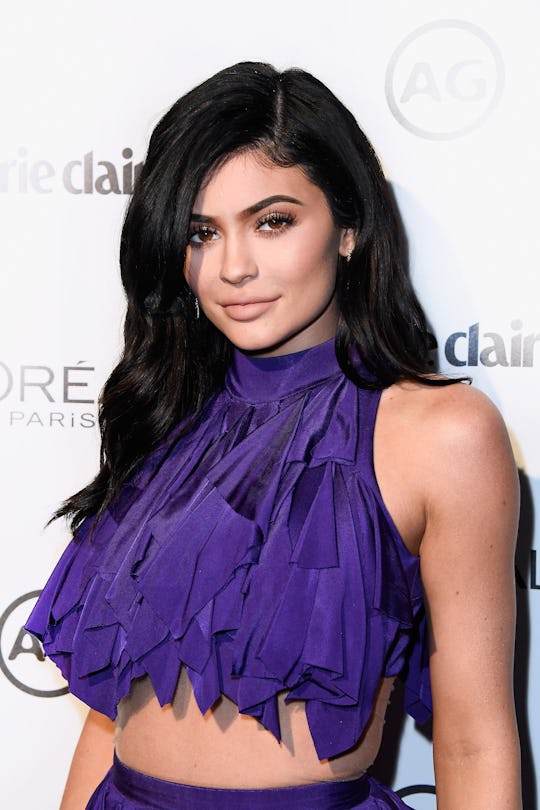 Frazer Harrison/Getty Images Entertainment/Getty Images
Will Kylie Jenner's Pregnancy Be Shown On 'Keeping Up With The Kardashians'?
Kylie Jenner left fans shook on Friday when TMZ and People reported that the 20-year-old reality star is expecting her first child. Yes, the social media maven and lip kit beauty mogul is expecting her first child with boyfriend, rapper Travis Scott, before she can legally drink. Not that there is anything wrong with that. Jenner has now spent over half of her life in front of cameras — both TV cameras and her own smart phone camera. So obviously, fans are dying to know if Jenner's pregnancy will be shown on Keeping Up With The Kardashians, because her life has been on camera for so long.
Sources confirmed to TMZ on Friday that Jenner was pregnant with Scott's baby, after Jenner had been allegedly telling friends earlier in the month. Scott, too, has allegedly been telling his friends that he and Jenner were expecting a baby girl, according to TMZ. A source told People that the couple is expecting their first child together (and ever) in February. "They started telling friends a few weeks ago," the source told People. "The family has known for quite some time. She is really excited and so is Travis."
Needless to say, fans had some pretty great reactions to the news. But immediately they began speculating about whether or not this was a business move, motivated by Kylie's mom — and the ultimate mom-ager (that's mom and manager) — Kris Jenner.
Some people could not help to take note that the timing of Kylie's pregnancy announcement coincides with the 10 year anniversary of Keeping Up With The Kardashians which premieres this Sunday Sept. 24. If Kylie has been pregnant for a while, then fans are bound to see her body change on the show. It makes sense — an unexpected pregnancy can certainly drive up ratings on a show. I know that even I will tune in to Keeping Up With The Kardashians to see if they even address the rumors.
Not much is left up to the imagination when it comes to the Kardashian's show. They tend to address all rumors and events that happen on and off cameras — like Kim's horrific robbery in Paris, which she described to Keeping Up With The Kardashians cameras for the first time earlier this year. Keeping Up With The Kardashians is a way for all of the Kardashians to address the rumors floating around. Needless to say, with the amount of attention that Kylie's reported pregnancy has gotten, someone will have to address it in some way or another.
In addition to Keeping Up With The Kardashians, Kylie has her own show, Life of Kylie, which debuted to not so stellar ratings — and there is no word if it will be renewed for a second season. Still, if given a second season, there is no way that Kylie could ignore her reported pregnancy or the pregnancy rumors. Especially since Kylie briefly addressed that she was dating Scott in an episode that aired last month. Bottom line? Kylie Jenner's pregnancy is bound to come up on one of these shows at some point in time, and she will definitely have to talk about it.
But it is not yet clear if that will be in the form of Kylie, not pregnant, addressing the rumors — or a very pregnant Kylie talking about how excited she is about the pregnancy. Until Kylie and the rest of the Kardashian clan confirm it, or talk about the pregnancy, fans have no other way of knowing what to believe.
Although sources have confirmed that Kylie is pregnant, the rest of the Kardashian family is remaining quiet. In an interview during Milan Fashion Week shortly after the news broke, Kris acted aloof to the fact that her daughter might be pregnant, telling The Cut:
I just woke up this morning. She's not confirmed anything. I think it's kind of wild that everyone is assuming that that's just happening. Something happens every single day. You never know what is going to break at any moment.
Kris is right — you never know what is going to happen or break at any given moment. And maybe we will see more of this breaking news when Keeping Up With The Kardashians premieres on Sunday.