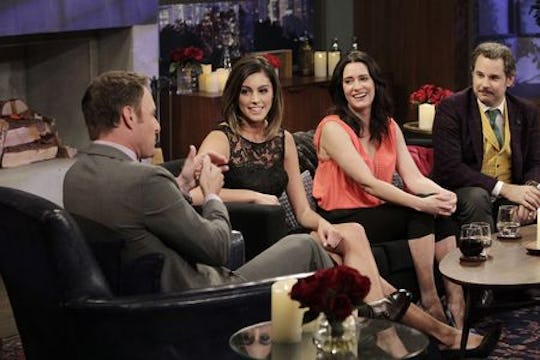 ABC/Rick Rowell
Will Lace Appear On 'Bachelor In Paradise?' Her Shot At Romance May Not Be Over
Quoting her tattoo, "You can't truly love someone until you love yourself," Lace Morris made an early exit from The Bachelor this week, to mixed reactions. One might think... too early. At the same time, I mean, girl — are you just getting your ink's reference now? Of all times to go off and find yourself, why do it when you've been slated to find love on the most popular dating show in America? Of course, right about now, everyone's also likely asking themselves the same question: Will Lace appear on Bachelor In Paradise?
It seems the rumors are true. During this week's Bachelor Live, host Chris Harrison invited Lace to appear on the next season of Paradise, and she tentatively agreed. It was the perfect way to round out her Bachelor exit, as anti-climactic as it was, and Harrison seemed to agree, noting on Monday night that her move to another show was likely for the best.
"I think that really sums it up best, that she needs to get to know herself and work on herself more before she gets in a relationship," said Harrison in an interview with Ryan Seacrest this week. "Sometimes when people leave, it kind of upsets the bachelor or the bachelorette. Ben did not shed too many tears when Lace left."
I personally can't wait to see her stir up some tropical trouble. Still, the former Bachelor contestant understands that those flaws sometimes get her into trouble. Lace is a girl who loves her cocktails (sometimes a little too much: She admitted on on Bachelor Live that she did often drink too much). She also admitted that it was hard for her to see her "crazy" behavior on TV, and had since begun therapy. "Since the show, I think I've been making a lot of progress," she said. "I have. I'm really proud of it."
Now that she's back home in Denver, Colorado (getting ready for the beach perhaps?), Lace has said that she's been true to the sentiment of her tattoo and is spending time learning how to love herself.
I'm taking a step back from drinking, obviously, and just focusing more on my career and just knowing my self worth and that my insecurities, you don't have to worry about those. You know, I'm better than that.
Good for you, girl. Rumor had it that she just wasn't feeling the Perfect Ben anyway — and she was probably right. There seemed to be zero chemistry between Lace and Higgins throughout her stay in the Bachelor house. Maybe Bachelor in Paradise will bring her some real love.
And if she can't find love this next time around, what better place to find herself, than um, paradise? I, for one, can't wait to see Lace make waves on the summer sea of love.
Images: ABC/Rick Rowell (2); Giphy (1)