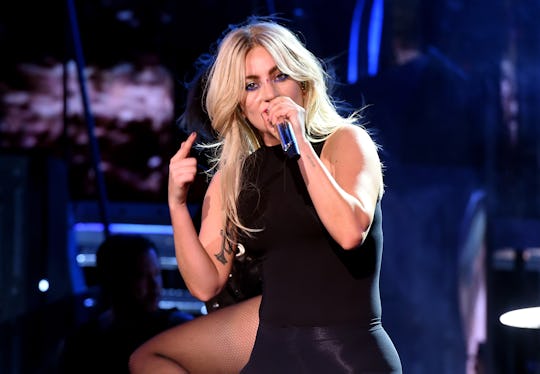 Kevin Winter/Getty Images Entertainment/Getty Images
Lady Gaga May Be MIA In 'AHS: Cult'
As the new season of American Horror Story quickly approaches, fans can't help but ask which recurring cast members will reappear, particularly when it comes to relative AHS newcomer, Mama Monster. So will Lady Gaga be in American Horror Story: Cult? Unfortunately, she won't be making any sort of appearance this season. The pop star first joined the series in Season 5 as the vampiric Countess in Hotel and then briefly appeared as the First Supreme in Roanoke, which earned her a Golden Globe for her role in the series. And while there were rumors swirling that she'd be back for Season 7, that is not going to be the case.
Entertainment Weekly has been able to confirm that Gaga will not be appearing in AHS: Cult, though the news shouldn't be all that surprising to fans, considering her jam-packed schedule this year. Gaga just started her Joanne World Tour this August and will continue touring up to the end of the year. Additionally, she became the headliner for Coachella this year after Beyoncé had to bow out because of her pregnancy. To say Gaga's been busy would be an understatement.
Though Gaga won't be returning for Cult that doesn't necessarily mean she's done with the AHS franchise forever. Because the theme of the series changes with each new installment, it's totally plausible Gaga will come back in the following season, however, there's been no word about her return to the small screen. Right now, it seems like she's just focusing on her music.
Although Gaga won't be in this season, there will still be a lot of familiar faces in Cult. Sarah Paulson, Evan Peters, Emma Roberts, Cheyenne Jackson, Frances Conroy, Mare Winningham, and Adina Porter, will all be in Season 7. Paulson and Peters will be the leads, playing Ally Mayfair-Richards and Kai Anderson respectively.
The new season will kick off just after the 2016 Election with Ally and Kai both having very different reactions to the results. Ally is seen as being devastated in the trailer, while Kai is elated by the news. Additionally, the "cult" aspect comes in with Kai's gang of clowns, which is especially terrifying for Ally because of her fear of clowns, something she's seen discussing with her therapist (Jackson).
While Ally struggles with her increased fear from the election, she begins to see things that Ivy doesn't fully believe are there. Is it all in Ally's head or is there really something to fear? With AHS you can never really know for sure.