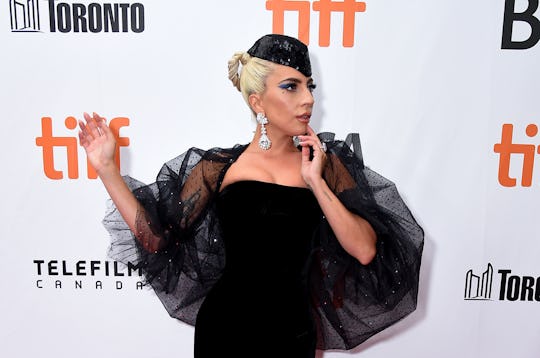 Michael Loccisano/Getty Images Entertainment/Getty Images
Some Fans Think They Spotted Lady Gaga In This 'AHS: Apocalypse' Promo
Once an actor has joined the cast of American Horror Story, their names tend to appear over and over in the credits of subsequent seasons. But that isn't always the case; there have been a few who only took part in a single season or two. However, with the upcoming eighth season uniting characters from previous seasons, it's impossible not to wonder just how many former cast members will return. For example, will Lady Gaga be on AHS: Apocalypse?
Lady Gaga starred in the show's fifth season as the Countess, a vampire reigning over a rundown hotel in Los Angeles. Despite having a huge role in Hotel, her part in Roanoke was much smaller by comparison. She appeared in several episodes as Scáthach, a witch who immigrated to the British colonies and exerted supernatural control over the colonists. Ryan Murphy later confirmed to the Huffington Post that Scáthach was the very first Supreme, and hinted that the character might come back.
In 2016, before either the seventh or eighth seasons had begun, Murphy said, "We're going to do a return to the Coven season in some capacity. So that character will be further explored then." Apocalypse will be revisiting Coven, but so far there's been no indication that Lady Gaga will be back.
Murphy explained that Lady Gaga's schedule made it difficult for her to find time for the show, and that's just as true now as it was two years ago. Filming for A Star Is Born could have conflicted with filming for AHS, and the current publicity tour for the movie is surely demanding much of her time. It probably would have been tough for Lady Gaga to fit in an appearance in Apocalypse too. Still, she was able to squeeze Scáthach into her schedule even when she was promoting her last album, Joanne, so there's a chance she managed to do the same for Season 8.
But even though Gaga could potentially show up, fans probably shouldn't get their hopes up. There has been no official announcement that Lady Gaga will be in Apocalypse; she isn't listed among the returning cast members anywhere, and she hasn't commented on the new season on her social media accounts. There haven't been any spoilers about her joining the season. Murphy may have planned for her to come back when he wanted to revisit Coven, but those plans may have changed.
Still, some fans thought they might have spotted Lady Gaga in promotional material for Season 8. One trailer showed two women in a post-apocalyptic landscape: one was seated in a chair, dressed in opulent attire with full makeup. The entire outfit didn't look entirely dissimilar from past Gaga looks. But most of her face was hidden by a jeweled oxygen mask she was using to suck the life force from the other woman, who melted as the trailer concluded. It was reminiscent of both the Countess and Scáthach, who lived off the blood and energy of others. But it's hard to know for sure if it was Gaga, since you can only see the seated woman's eyes.
Without explicit confirmation, it's impossible to say one way or another whether Lady Gaga will be in AHS: Apocalypse or not. Currently it doesn't seem likely based on how busy she is and her lack of presence in the promo, but even if the prospect is slim, it's still there. Fans shouldn't expect to see her in Season 8, but if she does manage to pop up for a short scene or two, then it wouldn't be the biggest surprise. Stranger things have happened on AHS.