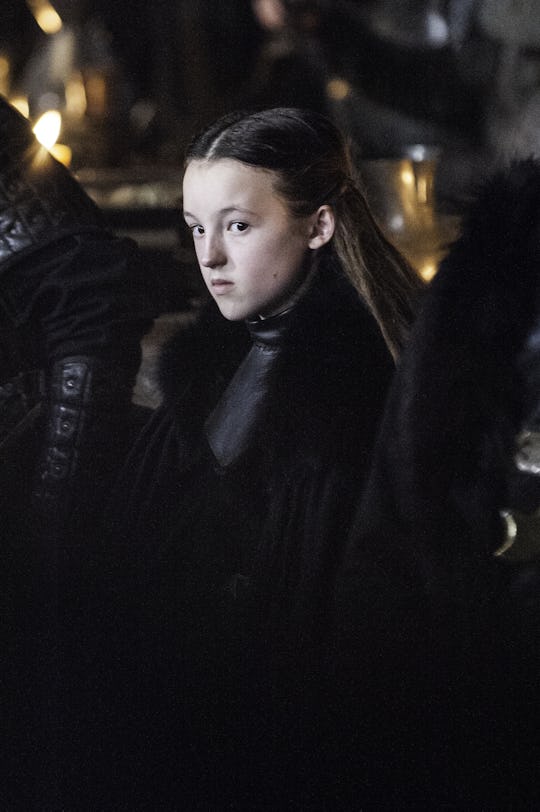 Helen Sloan/HBO
Will Lady Mormont Return For 'Game Of Thrones' Season 7? The Show Can't Go On Without Her
There were many great moments in the Season 6 finale of Game of Thrones, but the one fans can't stop talking about is Lady Lyanna Mormont's speech to the other Lords of the North. Now that Jon Snow has defeated Ramsay Bolton (with the help of Sansa of course) he is now the Lord of Winterfell. Although many of the Lords still questioned Jon's right to run Winterfell, Lyanna's speech put all of them in their place. It was amazing to see a young girl give a bunch of old men a good talking to, and actually have them listen to her. Although this was Lyanna's first season on the show fans are already hoping that Lady Mormont will return for Season 7.
It has yet to be confirmed if Bella Ramsey, who plays the formidable Lyanna, will be returning for Season 7 but I can't imagine the show without her. From the fierce way Lyanna handled Jon, Sansa, and Davos when they first went to ask for her help in Episode 7, to the hard look she gave Ramsay before the Battle of the Bastards, everything about Lyanna oozes confidence and makes me kind of wish she was the Queen of the North (no offense Jon).
Honestly though, where would Jon be if not for Lyanna Mormont by his side? She might as well be the hand of the king at this point. She's the one that was able to rally all the great leaders of the North to dub Jon as King of the North (even if it might be a death sentence). She's also the only leader in the North that gave her men to fight in the Battle of the Bastards alongside Jon. Besides, isn't it kind of awesome that the namesake of Jon's mother is the one that helps him leave his bastard name behind and become King of the North? I'd say so.
Season 7 won't be half as entertaining if Bella Ramsey doesn't return, which is why she absolutely must. We know no better Northern leader than the one whose name is Lady Lyanna Mormont.