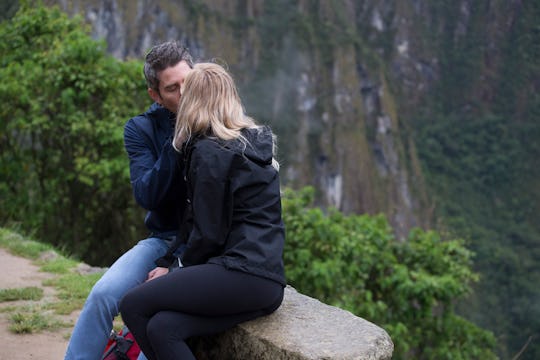 Paul Hebert/ABC
Could Another 'Bachelor' Wedding Be On The Horizon For Arie & Lauren B.?
The two night Bachelor finale has certainly been a journey. I feel like more happened these two nights than the rest of the season put together. Not only did we witness Arie's painful breakup with Becca, but we also saw Arie reveal that he and Lauren B. are now engaged. Obviously, this leaves viewers with a ton of questions about the where and when of it all. But I'm also wondering: will Bachelor couple Lauren B. and Arie get married on TV? They certainly wouldn't be the first to do so, but even if they agreed to do it only to back out at a later date, they'd be among some peers as well.
Seeing as Arie originally chose Becca then had a change of heart, he's being compared to Season 13's Bachelor Jason Mesnick. In 2009, Mesnick also had a controversial change of heart, but he handled it differently than Arie. Arie spent a few weeks ruminating over his decision to be with Becca, and after awhile felt like he had to break it off. He got a camera crew together (ugh) to do the breakup — but it was still before most of the season had aired. The timeline is murky, but it definitely happened several weeks after the proposal.
Jason Mesnick, on the other hand, stayed with the winner — former Dallas Cowboys cheerleader Melissa Rycroft — all the way until After the Final Rose. To Arie's credit (though he handled that breakup so poorly "cringeworthy" cannot even begin to describe it), he broke up with Becca in January. Jason waited until months later without ever revealing to Melissa that he couldn't get his runner-up Molly Malaney out of his head.
Jason didn't propose to Molly then, but he did ask for a second chance. In an interview with HuffPost just last year, Jason said the public breakup with Melissa and talk with Molly was the producers doing. "The biggest thing [producers said to me prior to filming After The Final Rose] was, 'Jason, we [now] want Melissa to be the next Bachelorette. Because we're going to let you ask Molly out, and you can't do that away from the camera because you're under a five million dollar contract [to not make contact with the runner-up],'" Jason told HuffPost.
As it turns out, Molly did take Jason back. Not only did they get married, but Jason and Molly got married on TV. The two were wed in 2010 and none other than Chris Harrison hosted. Jason and Molly are just one of several Bachelor weddings to be televised, the latest being Evan Bass and Carly Waddell. Not ever couple from the franchise has though, such as former Bachelorette Desiree Hartsock and winner Chris Siegfried, who opted for a photo spread in Us Weekly instead.
Even though Arie's season has a controversial end, there's still a chance that his wedding will be shown on ABC; Jason's ending was just as shocking at the time, and he did it. Ultimately, though, it's Arie and Lauren's choice whether they do or don't televise their wedding. Either way, they'll have company among Bachelor alums who chose the same route. While they may not have made a decision on that matter just yet, I'm sure the two will be quick to plan their nuptials since they clearly want to be together. I know one thing's for certain, though: if Arie and Lauren's wedding does end up on TV, it'll be hosted by Chris Harrison.
Check out Romper's new video series, Romper's Doula Diaries:
Watch full episodes of Romper's Doula Diaries on Facebook Watch.