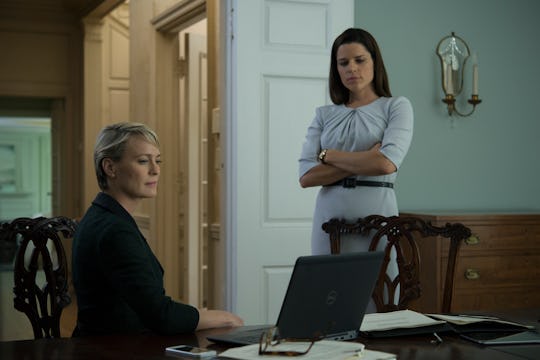 David Giesbrecht/Netflix
Will Leann Harvey & Remy Danton Hook Up On 'House Of Cards'? Their Past May Complicate Things
It seems that everyone has a past with everyone on House of Cards, including the new addition to the political landscape, Leann Harvey. Even though Claire's new Chief of Staff has been a power player in Texas for years now, Leann Harvey somehow has a past with Remy Danton on House of Cards. At the end of Season 3, Remy and Jackie Sharpe got together, despite her marriage to a doctor that was basically just to further her political career. (Spoilers for Season 4 of House of Cards.) But what are the chances that Remy and Leann hook up on House of Cards Season 4? This is a fictionalized D.C. we're talking about, so I wouldn't rule anything out quite yet.
Remy and Jackie have a complicated history. The two have been allies in politics, lovers, and have worked against each other — all throughout the first three seasons of the series. But, when they seemed to get together at the end of Season 3 — despite Remy's desire about leaving D.C. politics all together, and Jackie's, you know, marriage — it felt like something real was going to form between the two. Then, Claire brings in Leann Harvey, and everything seems to shift, just a little bit.
Leann and Remy's history isn't as passionate as the relationship between Remy and Jackie. As far as we know a few episodes into the season, Remy and Leann know each other strictly through business. According to Remy, his old company SanCorp, which he used to be a lobbyist, for courted Leann for a position a while back, which she rejected. Remy and Jackie play into the fact that Leann "rejected him," and that she was "too expensive," which kind of hints at the fact that there may be more to this relationship than we are told. Or maybe House of Cards has just made me really paranoid.
So, we know that they've done business together, but often it seems business frequently mixes with pleasure on House of Cards. It feels like Jackie and Remy are in a good place one moment and then they suddenly have an off day (where Remy decides to start working with Raymond Tusks again — what?). Nothing seems impossible in this twisted and passionate world of politics. It would definitely be interesting to see if the two got together, since Leann is loyal to Claire and Remy is loyal to... wait, who is Remy loyal to nowadays?