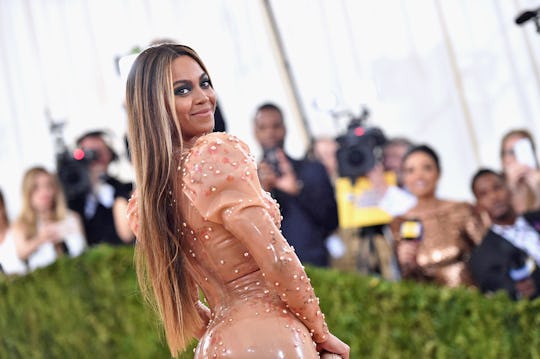 Mike Coppola/Getty Images Entertainment/Getty Images
Will 'Lemonade' Be Nominated For An Emmy? It Seems Like A Shoo-In
Beyoncé surprise-released Lemonade almost two weeks ago, but fans are still reeling from the visually and sonically stunning multimedia album. They're not the only ones losing it over Lemonade, though: it's release prompted an onslaught of reviews, odes, think-pieces, spin-offs, lyrical essays, protests, defenses, and more. So, given all that response, will Lemonade be nominated for an Emmy too? It's gotten so much attention already that it seems like a shoo-in.
According to Variety, HBO plans to submit Lemonade to the Emmy nominations committee since it was initially released exclusively (well, with lots of leaks) over the network. If it wins a nomination (which, surely, it will) Lemonade will compete in the "special variety" category.
If that category sounds vague to you, it is. It's reserved for cross-disciplinary, category-defying collaborations, which, as a genre, have become Beyoncé's specialty. Lemonade was a feat of artistic compromise and teamwork that's become increasingly rare in the music industry. Though it was mainly directed by Kahlil Joseph and Queen Bey herself, it also featured Melina Matsoukas, Todd Tourso, Dikayl Rimmasch, Jonas Åkerlund, and Mark Romanek as co-directors and co-cinematographers. We already knew that Beyoncé can break the internet; well, apparently she can also break the Emmys, too. The Emmy team doesn't exactly know what to do with so many collaborators. So, HBO is currently trying to see if this entire, varied team can be credited by the Emmy committee for their contribution to the project.
Unsurprisingly, Beyoncé is no stranger to the awards game. But though she has 20 Grammys, she's never won an Emmy. In 2015, she was nominated for her On the Run special, and in 2013 she was nominated for the Super Bowl XLVII Halftime Show. Both times she walked away empty-handed.
No offense to those past projects, but Lemonade is so much stronger. If Beyoncé is going to win an Emmy, it's going to be this year. Nomination voting doesn't start until June 13, and the results won't be announced till July 13, so fans will have to wait and see what happens. This year's Emmy Awards will be on Sept. 18, and Jimmy Kimmel will host the show at the Microsoft Theater in Los Angeles. Knowing Beyoncé, she's probably not even thinking about the award. She's got enough to do, what with her Formation World Tour kicking off. To be sure, it's a busy time for Queen Bey, and an exciting time for her fandom.