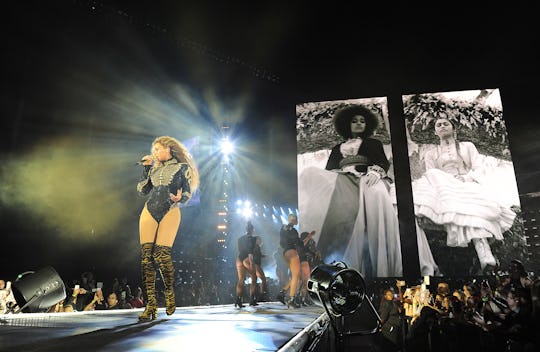 Handout/Getty Images Entertainment/Getty Images
Will 'Lemonade' Be Released On DVD Or Blu-Ray? Because You Need A Permanent Copy
Beyoncé's latest project, Lemonade, has been getting rave reviews. The visual album is, of course, cinematic, but the lyrics themselves are revealing. They are vivid and intimate. They feel voyeuristic. And since it aired two weeks ago, it has been the topic of conversation. However, if you have yet to see Lemonade (but who hasn't?!) or simply want to see it again, how can you watch it without a subscription to TIDAL, the music service owned by Jay Z? Will Lemonade be released on Blu-ray or DVD?
Good news: Things are changing, and Lemonade can now be purchased through Amazon and iTunes. And, better news, the CD/DVD set features 12 new songs and the corresponding short film, according to The Independent. (Score!) And, despite the insistence that Beyoncé's latest album would remain a TIDAL exclusive, late last week Pandora announced that it would begin streaming Lemonade on April 27, at least according to Vox. However, there has been no official word whether or not Lemonade will be made available on Blu-ray — and, if so, how long such a release may take — and there is no way to stream the visual album without a TIDAL subscription.
If you are thinking about getting a Tidal subscription for Queen Bey (and, I mean, who isn't) keep in mind that, while TIDAL Premium only costs $9.99 per month, TIDAL HiFi — which gives users the "lossless high fidelity" TIDAL is known for — costs $19.99 per month. (The Premium service offers music at the same bitrate as Spotify, at 320kbps.)
As for the other question everyone is asking — what is Lemonade really about — it seems Beyoncé's mom, Tina Knowles-Lawson, may know a thing or two. In an interview with People, Knowles-Lawson revealed Lemonade is a universal message and "it could be about anyone's marriage."
I think that everybody at one time or another has been betrayed and lied to and it's about the pain and it's about the healing process and it's about how do you get past that and move on.
(Very true, Ms. Knowles-Lawson. Very, very true.)
Because whether or not Lemonade is about Beyoncé and Jay Z is irrelevant. What matters is that its message transcends one marriage. It speaks about love and trust in all marriages and the importance of redemption, the importance of growth, and the importance of healing.