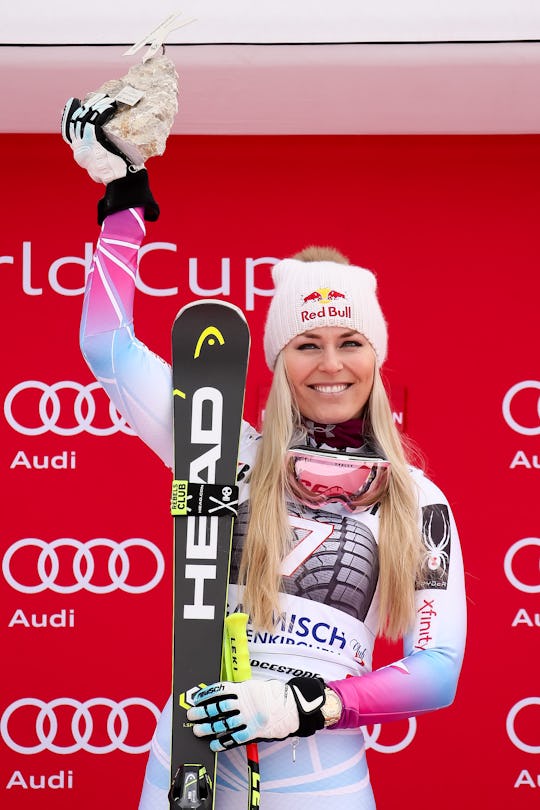 Millo Moravski/Agence Zoom/Getty Images Sport/Getty Images
Will Lindsey Vonn Be At The 2018 Olympic Opening Ceremony? She's Pumped For The Games
The 2018 Winter Olympics are almost here, and on Friday, the world will be watching as the games officially kick off with the opening ceremony in PyeongChang, South Korea. The event will be full of traditional Olympic moments to look out for — the playing of the Olympic anthem, the torch relay and lighting of the Olympic flame — but fans will also be eagerly hoping their favorite athletes make an appearance. Will Lindsey Vonn be at the 2018 Olympic opening ceremony? The popular alpine skier will be representing the United States in PyeongChang, though she'll actually have her first event the day before the opening ceremony, according to Us Weekly. But on Friday, she's also expected to join her teammates to walk in the Parade of Nations, celebrating what will be her fourth Olympic Games appearance since her debut at the 2002 Winter Olympics in Salt Lake City, Utah.
The only downside of this year's opening ceremony, at least for fans in the United States? The time difference means that, while the ceremony will begin at 8 p.m. local time in PyeongChang, it will actually kick off bright and early at 6 a.m. Eastern Time, according to TIME. Yet Vonn and her teammates might also be facing less-than-ideal conditions during the ceremony itself: the weather in PyeongChang is seriously cold at the moment, and the $58 million PyeongChang Olympic Stadium doesn't actually have a roof.
Luckily Ralph Lauren will have Team USA covered. This year's Team USA uniforms will consist of a knit wool sweater and slim jeans, a navy wool hat, brown suede gloves, and brown suede boots with red laces, according to TODAY. But the best part will no doubt be the parka, which has been designed with "heating components that will last up to 11 hours" (they even have adjustable settings!).
Temperatures aside though, Vonn has every reason to be super optimistic about her performance at this year's games. Although the 33-year-old missed out on the opportunity to compete at the 2014 Winter Games in Sochi due to an injury, she definitely seems to be in great form this time around. On Sunday, Vonn nabbed her third world cup win and set a record at the 81st World Cup in Germany, according to the Team USA website, which, let's be honest, is a pretty awesome confidence boost only days before the Olympics.
Vonn's majorly-impressive athletic achievements make her a standout on the Olympic team, not to mention a total fan favorite. She's the most decorated female ski racer of all time, according to Good Housekeeping, already boasting two Olympic medals from the 2010 Vancouver Winter Games. In 2016, she became the all-time leader for Super G (among both women and men), according to CNBC, and she is also one of only six women to have won World Cup races in every discipline of Alpine skiing. Perhaps unsurprisingly, Vonn recently told the Associated Press that she couldn't wait to compete in the Olympics this year:
Eight years has been a very long time. Obviously, I was very... disappointed and devastated and frustrated that I missed Sochi. I've been waiting for this for a long time. I'm ready.
Vonn's road to PyeongChang hasn't been without its ups and downs — she broke her arm during training in November 2016, for example, which delayed her starting season, and in December 2017 she received some backlash after telling CNN that while she fully intends to represent the American people at the Olympics, she won't be representing President Donald Trump and won't accept an invitation to the White House if she wins gold. But regardless, there's no question that her hard work and talent has paid off in a big way ahead of this year's games, and that there will be plenty of people cheering her on as she attempts to stand on top of the podium once again.
Check out Romper's new video series, Romper's Doula Diaries:
Watch full episodes of Romper's Doula Diaries on Facebook Watch.