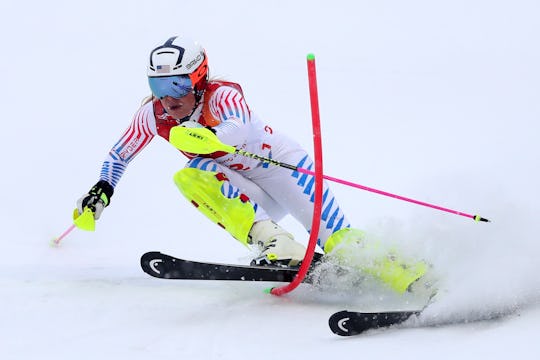 Tom Pennington/Getty Images Sport/Getty Images
Will Lindsey Vonn Compete In The 2022 Olympics? Here's What She's Said
The 2018 Winter Olympics may be the last for the most successful World Cup woman skier of all-time. Ski fans are wondering, will Lindsey Vonn compete in the 2022 Olympics? She hasn't completely ruled out competing in 2022, according to the New York Post, but since first tearing her ACL in 2007, she's suffered frequent knee ligament injuries and broken bones, and she even missed the 2014 Sochi Games due to a serious knee injury. Her recent lengthy tweet regarding her future now tells followers that she may not be making it to the Beijing Games in 2022 for the next time around.
Vonn has torn her anterior cruciate ligament twice, ripped her medial collateral ligament right off the bone, fractured the tibia plateau on her right leg, and sustained a few concussions, according to The Today Show. That's a lot of damage done.
Vonn hasn't ever said that she is not going to compete again because of the toll it's taken on her body, but she told the New York Post: "I feel like it's 99.9 percent sure that I won't. But, who knows, maybe something will come out and they will fix my knee up."
If that's the case, she said she could have a "robo-knee and ski like 10 more years," which would be ideal to her, according to the New York Post. "If I could physically continue skiing, then I absolutely will but, at this point, it takes a lot to make my knee good enough to ski downhill," she added. "I am just counting on some medical miracles to extend my career."
Just before her last races, the 33-year-old American athlete tweeted:
Tomorrow I will push out of the starting gate in what will most likely be my last Olympic Downhill race. I'm trying to enjoy the moment as much as I can and I am thankful to share this race with such amazing teammates.
She wrote that there was only one thing she could guarantee: that she would give everything she had, and her fans could count on it.
The highly-decorated racer plunged down her last 2018 Olympic run Thursday in the lead. She was racing the Alpine combined, her third and final event of these Winter Games, and she was hoping to add to her bronze medal in the downhill she'd earned yesterday. She set a time 0.74 seconds ahead of the rest, according to ESPN, but the slalom (an event she has only done three times this season) did her in.
"I gave it my best effort," she said, according to ESPN. "Slalom is tough for me... As much as I had a very little chance of getting on the podium today, I still had a chance. Such is life."
While this might very well be her last Olympics, she's still planning to carry on competing in the World Cup until she surpasses Sweden's Ingemar Stenmark's record of 86 race wins on the men's circuit, which is the most by any athlete, according to the New York Post. She's currently got 81 World Cup triumphs under her belt.
Then, once she does indeed hang up the skis, she's hinted at a potential acting career in an interview with the Today Show. She said her friend Dwayne "The Rock" Johnson has offered to have her shadow him on set.
"He said he's going to help me after the season and I can follow him around a little bit and see if it's really something that I would potentially be able to do," she told the Today Show.
Following a career like that, we can't imagine that there's anything this woman can't do.
Check out Romper's new video series, Romper's Doula Diaries:
Watch full episodes of Romper's Doula Diaries on Facebook Watch.