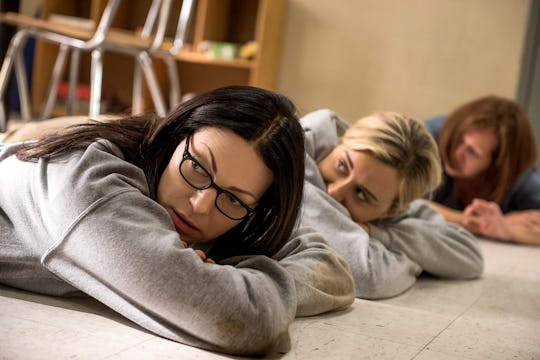 JoJo Whilden/Netflix
Litchfield May Never Be The Same After 'OITNB' Season 5
Warning: Season 5 spoilers ahead! Fans knew that the riot at Litchfield Penitentiary had to end at some point, though one might have hoped that it would end under better circumstances. At one point, it looked as though Taystee's negotiations could affect real change in their prison conditions but a series of misunderstandings meant that all her hard work was lost. Now the fate of the inmates (and the prison itself) has been left up in the air by the end of Season 5. So will Litchfield get shut down on Orange Is the New Black?
Quite honestly, it's hard to predict at this point. Episode 13 focused on the chaos that ensued once officers burst through the doors to end the riot, with many of the inmates choosing to give themselves up willingly (others unsuccessfully tried to stay and fight). Most of them were loaded up into buses and separated from each other (most tragically, Flaritza were pulled apart and sent to different places), with only a small group of women remaining behind. But even those who remained (Red, Piper, Alex, Taystee, Cindy, Suzanne, Gloria, Nick, Freida, and Blanca) were moments away from being discovered and taken away themselves.
But what happens after that? One can assume that the buses are taking them all to a maximum security prison to await any further repercussions for the uprising. But what will happen to Litchfield itself?
The most unlikely outcome is that Litchfield will close, because it takes a lot for a prison to shut its doors. Even when the decision has been reached to do so, like with Rikers, it takes years for that to actually happen. Even when riots occur, it's still rare for a prison to shut down. Riots have broken out at real prisons that lasted longer, were more violent, and had greater casualties than the riot at Litchfield, yet still those prisons did not close.
For example, the Attica Correctional Facility had a riot in 1971, which resulted in 43 deaths — much more than the fictional Litchfield. It was also violently retaken by the police, but the prison remains open to this day. Lawsuits and investigations dragged on for years, but the prison did not close. Riots at the Oklahoma State Penitentiary resulted in buildings being burned down, but even then, the prison found a way to stay open.
It's more plausible that Litchfield will undergo quite a few changes, though not all of them will necessarily be positive ones. Many of the familiar inmates might find themselves transferred elsewhere. There might be more security and more guards instituted. It's uncertain whether any of the women's very real demands will be met, especially since negotiations failed. But no matter what, Litchfield probably won't be going anywhere. It will just be a very different place when viewers see it again.