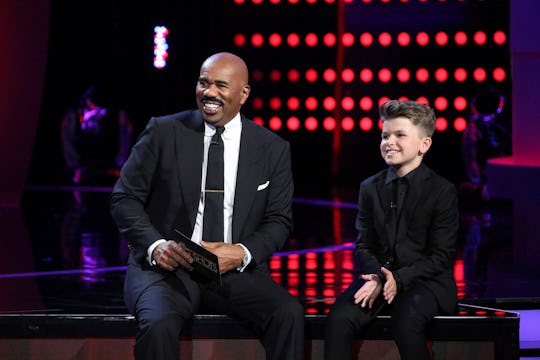 Evans Vestal Ward/NBC
The Talented Kids On 'Little Big Shots' Are A Must-See
The second season of Little Big Shots comes to a close on Wednesday, June 14, and it'll be hard to say goodbye to these incredibly talented and adorable kids. While Season 2 comes to a close, many may be wondering will Little Big Shots return for Season 3? Unfortunately, it has yet to be officially renewed, however, given the premise of the show, I have a feeling it won't be long until NBC gives it the go ahead for another season.
Hosted by and executive produced by Steve Harvey, along with Ellen DeGeneres, the variety show brings on talented kids to chat with Harvey as well as show off their incredible skills. There have been dancers, singers, martial arts experts, and so many more — and did I mention that they're all kids?
Many children on the show have even gone on to find success in different avenues. For example, Iain Armitage appeared on Little Big Shots during it's first season in 2016. Back then he went on the show to discuss his incredible knowledge of all things Broadway, his YouTube channel IainLoves Theatre, and to show off his taping skills. Since then, Armitage has gone on to appear on Big Little Lies as Ziggy Chapman and will star in The Big Bang Theory spin-off, Young Sheldon, as the titular character.
It's possible Armitage may make an appearance in the Season 2 finale, as the episode will be a fan favorites episode, bringing back the best of the best from the series thus far. Some of the return stars include 4-year-old worship leader Caleb, a singer from Wales, and a piano player, amongst others.
Of course, Harvey will still be at the helm, hosting the show and talking with the returning former members. Most likely, they will give fans an update on where they are now and what they've been up to since they were last on the show. For those who have been watching the show since the beginning, this will be a particularly special episode for you to catch up with some of your little faves.
Even if you don't watch the show regularly, this is a great night to tune in. Plus, who doesn't love watching little kids do incredible things? Obviously, plenty of people do, which is why it's already wrapping up its second season.
The Little Big Shots season finale airs on July 14 at 8 p.m. ET on NBC. You won't want to miss it!