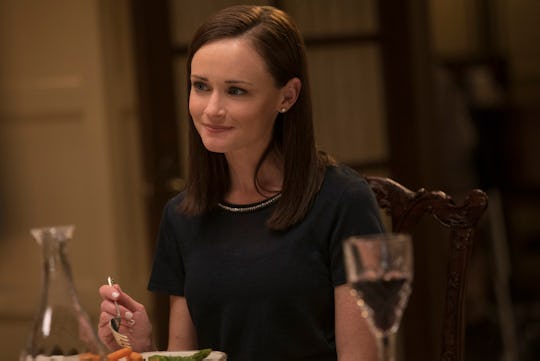 Netflix
Will Logan & Rory End Up Together On The 'Gilmore Girls' Revival? Things May Change Now
(Warning: This post contains major spoilers from all of Gilmore Girls: A Year in the Life.) Even though it has been almost 10 years since the finale of Gilmore Girls, fans are more dedicated than ever to find out what is going to happen to Lorelai, Rory, Emily, and more with the new Netflix revival. If you woke up and marathon-watched the entire series, or are even getting to it at a more leisurely pace (a.k.a., the Saturday after), there is no doubt that the cliffhanger at the end of "Fall" left you with a few questions. One of them being, will Rory and Logan end up together on Gilmore Girls, should there be more episodes?
After this series, I am not sure how much of a possibility that is, although the ending of the season certainly raises the question of if they would get back together. The final four words that fans have become hungry for revealed that Rory was pregnant. And, as some may point out, her main sexual partner for the season was indeed Logan, an engaged man who truly seems to love her. It's complicated, you know? Even if Logan wasn't the father of Rory's baby (which is still TBD), hell, even if Rory wasn't pregnant, I would say there was a very faint possibility that Rory could end up with Logan. Is he the easiest option? No. That would obviously be Jess. But, if it were easy, it wouldn't be as fun.
The resurgence of their relationship took me — a Team Jess person — for a loop. Even though Rory and Logan were acting pretty shady (with him being engaged and all), it was obvious how much these two cared for each other. It was also obvious that Logan knew Rory. Like, he really knew her. Yes, Jess told her to write the book — that's great — but Logan knew how to pull her up when she was down. He was her first real adult relationship, and I don't think those feelings leave a person easily.
Rory did end it with Logan. And truthfully, it felt permanent. Their goodbye wasn't left on any unfinished notes. Their kiss seemed like a true "thank you", but that's it. It didn't feel like a "see ya later", buddy. So, if Rory is pregnant with Logan's child, it will be interesting to see if she would tell him. Will she do it alone, or will she let him in on the child's life. We'll probably need a Season 2 of A Year in the Life to be confirmed before we go writing any plots for what is to come. In the meantime, though, let the fan fiction begin!