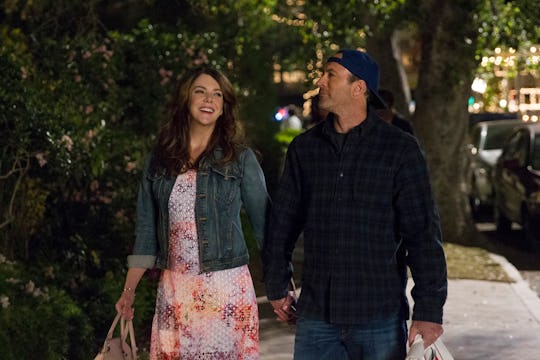 Saeed Adyani/Netflix
Will Lorelai & Luke Break Up In The 'Gilmore Girls' Revival? The Trailer Hints At Issues
The leaves are changing colors and the "la la la"s are back, which means only one thing. The Gilmore Girls revival trailer is here, and as amazing as it is, it also leaves the biggest Stars Hollow fan with a lot of questions. Mainly, are Lorelai and Luke going to break up in the Gilmore Girls revival? There is no doubt that these two have seen the highs and lows of each other, but there's no way they can actually split, right? Well, the trailer suggests that there is trouble in paradise, and that, my friends, is very, very concerning.
In the trailer, Lorelai is talking openly about her relationship with Luke (which is, in a word, comforting. Since, we know they're still together). But, the concern rears it's ugly head when she says that while she has always known what she wants, things, now, seem "hazier." "Luke and I are... happy," she says, with a question in her voice. I consider myself an optimist, but even I'm worried about the tone of that statement.
Lorelai and Luke have been through their fair share of issues. But, if you've rewatched the series to gear up for the forthcoming revival (I can't be the only one, right?) then you know that these two are truly the only endgame the show has every pioneered. (And this is coming from a diehard Team Jess viewer.)
While I think it is possible that somewhere in the four episode revival we might see Lorelai and Luke face issues, we have to remember that this is something all relationships face. These two are strong, and it doesn't mean that they're going to call it quits that easily. Definitely not after everything they've been through (Rachel! Christopher!).
Maybe these two just need to refresh — to revitalize their relationship. Like the seasons (which the series is planning on following), there are colder and darker months. But spring and summer are always around the corner, and if we keep that in mind, we may find some peace in knowing that they'll get through whatever rut they may have fallen into.
Plus, Twitter user Megan noticed it best, Lorelai and Luke are dressed almost identical in the promo. Could you ever break-up Mr. and Mrs. Flannel Plaid?
(Spoiler: you can't break up this plaid family.)