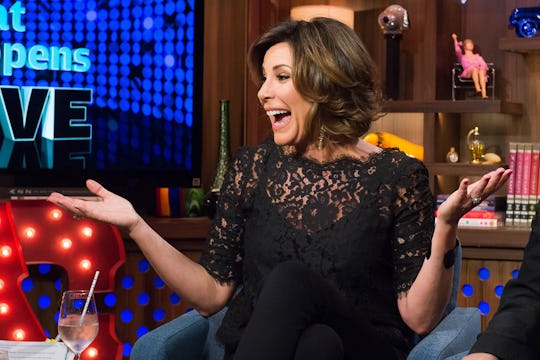 Charles Sykes/Bravo
Will Luann De Lesseps Get Married On 'Real Housewives'? We May Know A Bridesmaid
After just 74 days of dating, Luann de Lesseps and her beau Tom D'Agostino got engaged this past February. In a courtship that should have had its ups and downs, considering that Tom had been romantically linked to both Ramona Singer and Sonja Morgan in the past, Luann has been bubbling over with mirth ever since the two got serious. As we saw on Season 8 of Real Housewives of New York, Luann kept the relationship under wraps for a bit, wanting to preserve its innocence before the vultures started nit-picking. So will Luann get married on RHONY?
Like all things de Lesseps + D'Agostino in Luann's life, she effervesced herself into a frenzy in an interview with E!, in which she definitely spilled the beans that the wedding would be televised. Said Luann:
"It's going to play out on the show...We're getting married on New Year's Eve. I'm very excited about that. It's his 5oth birthday, it's New Year's Eve, and we're getting married! So, it's a triple threat, and it's going to be a fabulous party!"
At that point, they had decided on the date (December 31, 2016) and the location: Luann's nuptials would be held at Cafe Boulud in Palm Beach, Florida. The wedding will be a three-day affair, with a yacht party the night before, and a huge brunch the day after. A whopping 200 guests are expected to attend. (Can 200 people safely fit on a yacht? Is the yacht a cruise ship?) Luann and Tom are both Catholic, and since she and her first husband eloped, and Tom has never been married, it was important to Luann to do a big church ceremony, as well.
"We're both Catholics. We want to get married in church with priests, the whole nine yards. Lunches and dinners and parties on yachts," she told US Weekly.
And if the setup wasn't lavish enough for Bravo TV crews to turn the weekend into a Housewives special, one of Luann's castmates is even going to be in the wedding! In honor of being the one to set up Luann and Tom up in the first place, Dorinda Medley will get to be a bridesmaid in Luann's wedding party. Presumably, her daughter Victoria will be her maid of honor, though that hasn't been confirmed. Since the wedding is still six months away, we likely won't see the TV version until at least a year from now, especially since it would make the perfect Season 9 finale.