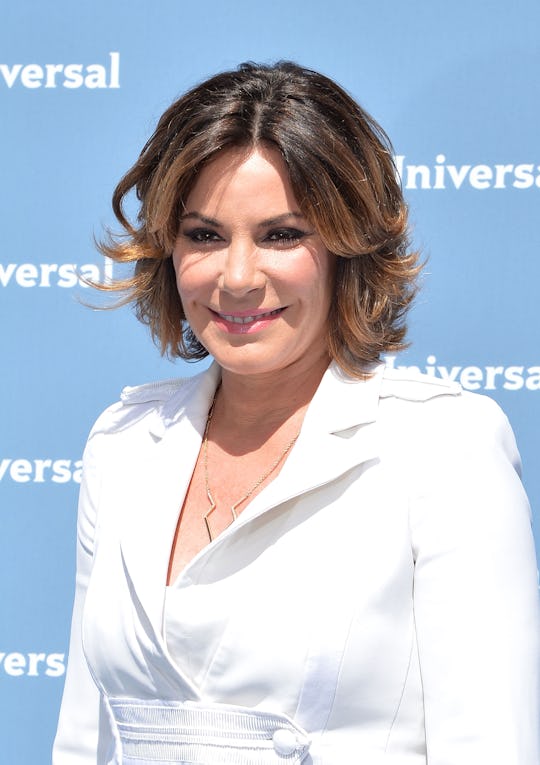 Slaven Vlasic/Getty
Will Luann De Lesseps Return To 'Real Housewives Of New York' Next Season? Most Likely
Well, it certainly has been an interesting season for the former Countess, Luann de Lessops, on Real Housewives of New York. She's gone from Season 7's "Don't be all, like, uncool," in which she was offended that the other women were offended by her having brought home a man, to being engaged to someone she'd dated for only a matter of weeks. I believe her co-stars were genuinely trying to be happy for her, but there were quite a few red flags about Luann's intended, Tom d'Agostino Jr., all of which culminated in the explosive revelation that Tom was seen making out with a strange woman at the Regency Hotel, while engaged to Luann. Will this drama continue to play out in a Season 9? If the series is renewed, will Luann return for the next season of Real Housewives of New York? I don't see why not.
From a historical perspective, it seems clear that Luann has no real interest in leaving the show. Even when no longer an official main cast member in Season 6, she still appeared on several episodes in the demoted role of "friend." Aside from Season 6, Luann has been a part of the main cast since the first season, way back in 2008 with Ramona Singer and Bethenny Frankel. The Real Housewives of New York is Luann's job.
Current Housewives Bethenny and Jules Wainstein, who joined the cast for Season 8 are even less likely to appear in Season 9, which still hasn't been officially renewed. Rumors are swirling that producers will not ask Jules to return for a following season because she hasn't added much to the cast, and they weren't interested in another divorce storyline, at least that is according to Us Weekly. Bravo's reps have said that this is not true, and that no casting decision have been made as regards a Season 9 of the show. This would mean that Bethenny, who has also been rumored to be leaving the show, may return for another year as well.
For my part, I dearly hope that The Real Housewives of New York is renewed for a Season 9 and that Luann is a part of it. I would be frankly devastated if I got to see nothing of her sure to be over-the-top New Year's Eve wedding, with or without her fellow 'Wives.