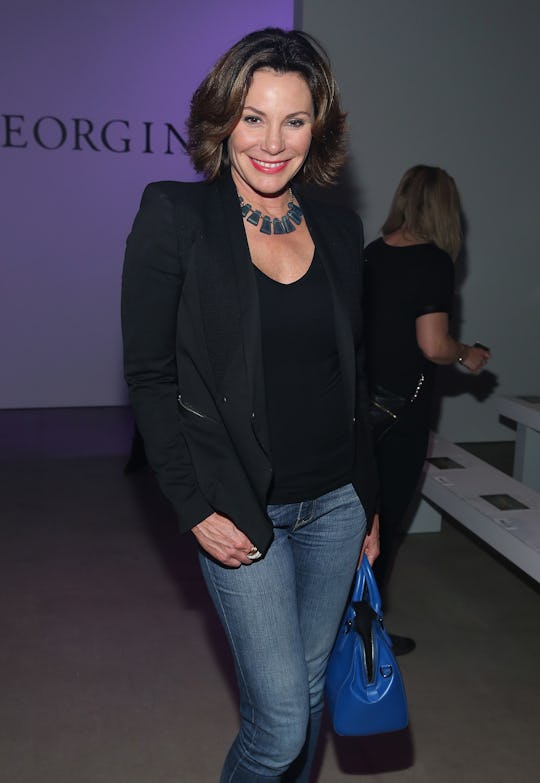 Cindy Ord/Getty Images Entertainment/Getty Images
Will Luann De Lesseps' Wedding Still Make Her A Countess? She'll Lose The Famous Title
Real Housewife of New York Luann de Lesseps is set to marry entrepreneur Thomas D'Agostino this December in a combined New Year's Eve/Tom's 50th birthday/wedding three-day extravaganza in Palm Beach. On yachts. (Because of course there will be yachts.) And while Luann has been divorced from Count Alexandre de Lesseps since 2009, she's held onto her Countess title as a courtesy, continuing to market herself as "The Countess" in her etiquette book and even naming her clothing line "The Countess Collection." But will Luann's wedding still make her a Countess?
Unfortunately, she'll be giving up the formal title once she remarries. While her children, Victoria and Noel, will both keep their titles, Luann can no longer officially be a Countess if she's married to a non-Count. (If D'Agostino was royalty, then Luann would adopt his title once they got married.) It's considered très improper for Luann to keep referring to herself as "The Countess," especially if her ex-husband ever remarried. (It would be a sign to disrespect to his new wife who would be the new Countess.) Luckily, she doesn't seem too attached to the title. Luann told E! News of dropping it, "I've had that title for so long. I had a great marriage, and it's still part of who I am...But I'll be Mrs. D! Instead of de Lesseps, I'll be Mrs. D'Agostino."
According to etiquette expert Myka Meier, Luann could probably pull off keeping the title as part of her "brand" in name only. She told Bravo's The Daily Dish:
"It's completely up to her in terms of what she goes by in her personal persona and professionally as she's a public figure. I think if she decides to keep it for show business reasons, that's something completely separate and would just never be recognized internationally as a formality. That would be something that's more a stage name at this point."
Seems fair enough, but oh man, putting the words "stage name" next to a Real Housewife only evokes one image and one pretend, made-up word: "caburlesque."
Whether or not Luann changes up all her social media handles to de-Countessify them, it genuinely seems like she's moved on from the royalty phase of her life to a more low-key (but still ~cosmopolitan~) sensibility.