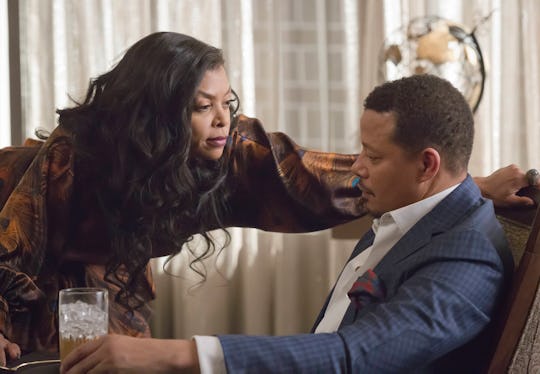 Chuck Hodes/FOX
Will Lucious & Cookie Get Back Together on 'Empire'? They Have So Much History
Saying that Lucious and Cookie Lyon have been through a lot together is a bit of an understatement. Besides building their literal and figurative Empire together, they also had three children together. Oh, and the all-important detail that Cookie went to jail for 17 years to save Lucious — and when she was released, he had all the money they should have split (Cookie got her share though, of course). Given all of this they understandably separated. Recently, however, it seems that their love might be rekindled. Will Lucious and Cookie get back together on Empire?
Their long history does not really bode well for them. So much happened between Lucious and Cookie over the years — Cookie's jail stay just one of them — that it's reasonable to think they can never be together again. At the beginning of the series, Cookie was justifiably irate at Lucious for letting her take the fall for his drug dealing career. Not only that, but Cookie barely knew her sons because Lucious did not visit her often. Knowing this, it seems like they'd never be even friendly to each other, let alone romantically involved again.
On the other hand, Lucious and Cookie's long relationship could be a reason why they get back together. They know each other arguably better than anyone, it's not surprising that they keep coming back to each other. Furthermore, both of them have committed atrocious acts throughout their lives — both together and apart, so it's not like one can take a moral issue with the other.
This possibility has been building up in the last few episodes. Lucious and Cookie seemed to be getting cozy again on Wednesday's episode, "More than Kin." After Cookie interrupted Lucious and reporter Harper Scott, he told Cookie that Scott "didn't do it for her." Cookie slyly said he once had a woman with curves and he should've kept her.
Towards the end, both were offered to be co-CEOs of Empire. Cookie said they needed time to think about it while Lucious immediately embraced the idea. Will the fact that they're now co-CEOs stop Lucious and Cookie from rekindling their relationship? Or will it drive them together? Seeing as Lucious fought mercilessly to get to the top — including murdering people — it's strange that he did not object to being a co-CEO. He's clearly up to something, which might hurt their chances of being together as well. Whatever the case, we'll have to see in the upcoming weeks.