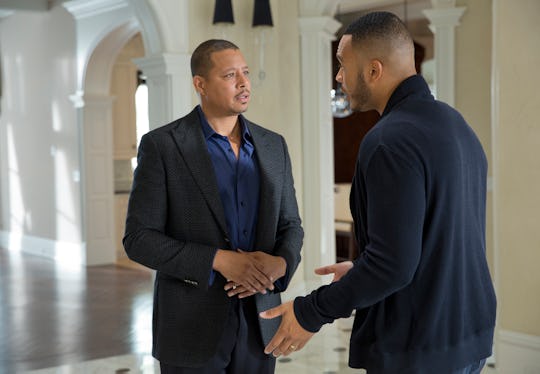 Chuck Hodes/FOX
Will Lucious Get 'Empire' Back? He'll Fight Tooth & Nail For His Legacy
Empire viewers were stunned when Lucious Lyon was removed as CEO from his own company. In the fall season finale, Empire Entertainment's Board of Trustees — spearheaded by Hakeem's former lover Camilla — voted to oust Lucious and appoint Hakeem as the new CEO. Empire represents everything Lucious and his family have built together, and it also serves as the source of their most bitter conflicts. Lucious is not the kind of man who takes an attack on his family sitting down, but the question on the mind of many an Empire fan still stands. Will Lucious get Empire back?
It's difficult to imagine a scenario where Season 2 ends with Mimi and Camilla beating the cutthroat businessman and his own game, but Lucious may have met his match in the power-hungry duo. In an interview with The Hollywood Reporter, Empire's showrunner Ilene Chaiken spoke about Lucious' state of mind at the time of the show's midseason premiere. "Lucious is certainly pushed to the edge," she said. "Losing his company is possibly the worst thing that could happen to Lucious Lyon and retribution will be first and foremost for Lucious."
If Lucious' violent tendencies get the best of him, like Chaiken's comments suggest, it's possible that Lucious' efforts to regain control of the company could backfire. Nearly all of the Lyon family's successes and scandals have in some part been related to Empire, and it would be oh-so-Shakespearean if the company is also the cause of a Macbethian downfall for Lucious in the form of death, imprisonment, or losing his family altogether.
The preview for Wednesday's midseason premiere depicts Lucious telling someone, "I'm going to take back my kingdom, and you're gonna help me."
Would we expect anything less from Empire's patriarch? At this point in Empire's run, Lucious has committed all kinds of merciless acts in order to get his way. He's murdered Bunkie, banished Camilla from New York to keep her away from Hakeem, and sabotaged Hakeem and Cookie's record label, Lyon Dynasty. It's obvious that Lucious will stop at nothing to get his company back, and he'll do everything in his power to remove any obstacles that stand in his way.
What would Empire's fate be if Lucious doesn't get his company back? Could Hakeem, as arrogant and naive as we know him to be, successfully lead Empire Entertainment? Or will Hakeem just be a puppet for Camilla and Mimi's machinations?