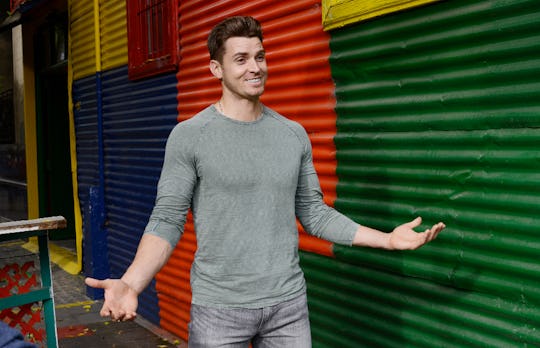 Veronica Gambini/ABC
Will Luke Pell Be The 2017 'Bachelor'? He's A Fan Favorite For Sure
From the moment Luke Pell rode a "unicorn" into our (and JoJo Fletcher's) lives, the Bachelorette contestant became an immediate fan favorite. With his soulful eyes, sizzling make-out skills, and preternaturally perfect upper body, Luke quickly rose to the front of the pack in the quest for JoJo's heart. Though I still suspect that Jordan Rodgers will get the final rose from JoJo in the end, I'm equally certain that Luke will be the next Bachelor.
Luke Pell's time on The Bachelorette seems to be a bit of a slow burn. While Chad stole the season from just about every contestant on the show in the early weeks, JoJo was left making connections that fans didn't necessarily see play out. Which brought us to a very steamy make-out session with Luke and some thigh grab-age. It was intense, and it was quite indicator that Luke is probably not going anywhere right now.
But, all good things come to an end, and Luke's time on The Bachelorette may not be forever. If he doesn't end up winning the show and JoJo's heart, is it possible that Luke could be a good candidate for The Bachelor?
He Can Deliver The Chemistry
The chemistry between JoJo and Luke this season has been actual fire.
I haven't done an official count, but I'm fairly certain that Luke/JoJo top the steamy make-out chart this season – both in terms of heat and actual number of kisses. She hasn't even exhibited quite this level of physical chemistry with Jordan, her obvious all-around frontrunner. At some point, JoJo called her chemistry with Luke "crazy."
Perhaps what we're witnessing is lightning in a bottle and the sparks that fly with JoJo are unique for Luke. Somehow, I doubt that, and watching Luke make out with 20+ women on the next season of The Bachelor is definitely something I can get on board with.
He Was Singled Out By Bachelor Insiders
Editor's Note: This post has since been deleted.
Chris Harrison knows what's up. He's been around the Bachelor Nation block more than a few times by now, and I have all the faith in the world that he knows a good potential Bachelor pick when he sees one. Earlier this season, Chris told Yahoo that Luke was one of his favorite contestants on The Bachelorette Season 12, calling him "the whole package." If that's not a shining endorsement for Bachelorhood, I don't know what is.
Similarly, after the fourth episode of the season, the sixth Bachelorette Ali Fedotowsky blogged that she was sure the show was setting Luke up to be the next Bachelor, speculating that JoJo would pick Jordan in the end. "The show wants us to love Luke and I have to say, it's working," Ali said. She's been on the receiving end of the contestant-to-season-star transition herself, and she's spot on about this.
He's From Texas
Editor's Note: This post has since been deleted.
OK, hear me out on this one! The Bachelor loves Texas. According to Fusion, Texas produces a really high number of Bachelor/Bachelorette contestants, second only to California. Most Bachelors are from either the midwest or the South, and three stars from recent seasons (Brad Womack, Jake Pavelka, and Sean Lowe) have hailed from the lone star state. Just saying.
He's Ridiculously Good-Looking
Someone created a Twitter account dedicated to Luke's impeccably sculpted "side boob."
All jokes aside, Luke's Paleo-sculpted bod is nothing to sneeze at. The man is ripped, and he's got the picture-perfect, camera-ready face to go with it.
He's A Family Man
Editor's Note: This post has since been deleted.
Luke's Instagram is filled with adorable photos of him hanging out with his equally adorable family. They're quite clearly very close, and in a series that relies heavily on the Hometown dates as the emotional crux of the season, family ties are key. There's nothing like a man cradling a baby to increase his likable factor even more.
He's Got A Sense Of Humor
Editor's Note: This post has since been deleted.
This season hasn't spent a ton of time developing Luke-the-funnyman, but mid-credits scenes and his own social media definitely prove that he's a guy who appreciates a good joke, particularly when he's goofing around with his friends.
He's Talented
Luke is a country singer-songwriter and plays the guitar. In fact, post-filming, he recently performed a show with fellow Bachelorette Season 12 contestant James Taylor. He gets bonus points for being friends with James Taylor IRL, because everyone knows that James is the most adorable Bachelorette contestant ever.
Overall, I'd be shocked if they announce that anyone other than Luke will be taking up the Bachelor mantle in 2017. He's essentially a frontrunner for the title, if he doesn't win JoJo's heart at the end of this season.