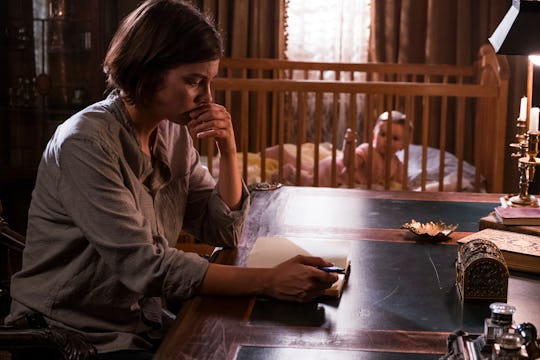 Gene Page/AMC
The One Thing That Needs To Happen In 'The Walking Dead' Season 9
Fans of The Walking Dead have been a little confused about the progression of Maggie's pregnancy, which seems to have stretched on endlessly over the course of nearly three whole seasons. She's been pregnant for so long that viewers can't help but wonder when her child will finally arrive. It won't be in Season 8, but will Maggie give birth in The Walking Dead Season 9?
It's possible, but there's no way to know for sure yet because it depends on a few different factors. Time passes much slower in the universe of The Walking Dead, which means that Seasons 6, 7, and 8 all took place over less than two months. Executive producer Denise Huth told Entertainment Weekly that Season 7 only spanned 19 days. That means Maggie is still only in her first trimester, and has a long way to go before she's ready to deliver. If the show continues to move along as ploddingly as it has been, then it could be seasons before that baby is born.
But the show wouldn't torture its fans for much longer, right? Maggie has already been pregnant for nearly three years in real time, and the audience probably can't take much more. The wait to meet Baby Rhee has been interminable.
To have Maggie give birth in Season 9, things would have to speed up a little on the show. A time jump between Seasons 8 and 9 could move her farther along in her pregnancy; if the show incorporates the time jump from the comics, then it might catch up with Maggie when her kid is already a toddler. After the war against Negan concluded in the comics, it skipped forward a few years to find Maggie secure in her position as leader of Hilltop, raising her young son Hershel. That's definitely a possibility for the show as well, particularly since it has played around with fantasy flashforwards throughout the current season. Even if Season 9 picked up the pace a little and let a few months pass instead of mere days, Maggie would be much closer to her child's birth.
If everything goes well, then there's a really good chance that Maggie will give birth in Season 9. However, offscreen negotiations could complicate the situation. It's been reported by several publications that actress Lauren Cohan might not continue with the show. Her contract expires at the end of the eighth season, and, according to Deadline, she has a new pilot with ABC called Whiskey Cavalier that could end up pulling her away from The Walking Dead if the new show gets picked up to series. Cast members like Sonequa Martin-Green and Corey Hawkins have left for other shows before, so it seems like juggling both might prove difficult. Romper's request for comment from AMC about Cohan's contract agreements for the show was not immediately returned.
However, according to TVLine, who site "multiple sources," Cohan is actually looking to remain with The Walking Dead for a few more seasons. Showrunner Scott M. Gimple also told TVLine that he was "incredibly hopeful" about the new deal being discussed with Cohan, though he didn't totally dismiss the idea that she might have to leave the show. "These things do happen in TV," he said. "But we're talking."
It's simply too early to know with any certainty how Maggie's story will develop going forward. There are a lot of variables that could change the course of her future, from the twists of the plot to the behind-the-scenes discussions. Maggie is the last surviving member of her family, so it would be incredibly disappointing to lose her and her child, but it seems like fans might have to prepare themselves for that outcome just in case it comes to pass. But if Cohan does stay with the show, then Baby Rhee could come along in Season 9 after all.
Check out Romper's new video series, Romper's Doula Diaries:
Watch full episodes of Romper's Doula Diaries on Facebook Watch.