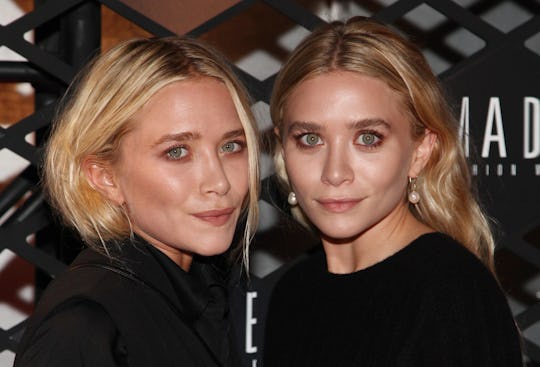 Taylor Hill/Getty Images Entertainment/Getty Images
Will Mary-Kate And Ashley Olsen Be In 'Fuller House' Season 2? Their Absence Was Felt
Fuller House delighted '90s kids with the return of the Tanners, but fans are still missing Michelle. Mary-Kate and Ashley Olsen decided to skip participating in the Netflix series' first season, an absence the cast good-naturedly called them out for in the first episode. But since the show was renewed, will Mary-Kate and Ashley be in Fuller House Season 2? There's no word yet, but the show's creator says the door is still open.
It didn't take long for Netflix to commit to a second season of Fuller House: according to E!, the series premiered on Feb. 26 and got renewed on March 2. The show focuses primarily on the relationship between D.J. Tanner-Fuller (Cameron Bure), her sister Stephanie (Jodie Sweetin), and her friend Kimmy Gibbler (Andrea Barber), but most of the original cast made return appearances (even Uncle Jesse and Aunt Becky's sons!). Though the Olsens initially opted out of the revival, series creator Jeff Franklin told E! News that he was always hopeful about the possibility of their return:
I am still hopeful that Mary-Kate or Ashley or both of them will come back and be a part of it, even if it's just for an hour. We miss that. Everybody does feel that hole in the family. But it's like, all family reunions, there's always somebody that doesn't show up. But hopefully next time around, we'll have them back.
Speculation regarding the twins' answer was high following the Fuller House renewal announcement. TV dad Bob Saget was spotted chatting up Ashley Olsen at the March 1 premiere of Whiskey Tango Foxtrot, according to Hollywood Life; fans hoped it was a sign of open communication. In a February interview with The Hollywood Reporter, Franklin revealed that he hadn't added pressure by sending them episodes of the first season:
I think they're going to watch them on Netflix like anyone else. Everybody's going to see them for the first time completely finished on Netflix because that way we have one more person watching Netflix.
Fuller House didn't debuted to mixed reviews, but it definitely delighted fans. E! reported that in a SiriusXM interview with Jenny McCarthy, Dave Coulier (Uncle Joey) said he's happy with the series:
I think the fans really love what we put together. Because the critics have really never liked us. They've always ripped on us and so we really never paid attention to that. What we do pay attention to is what the fans want and that is the show that we gave them.
It may be a long time since the Olsen twins set foot in their fictional San Francisco home, but fans still feel like they're a part of the family.