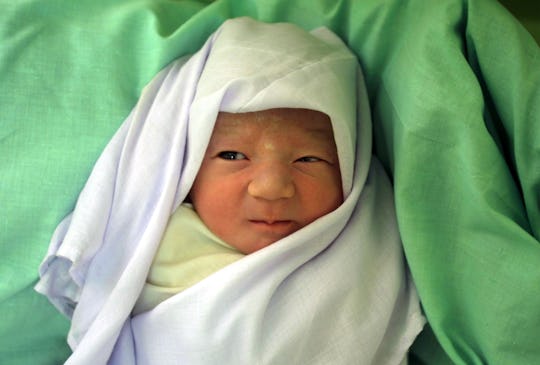 Natalie Behring-Chisholm/Getty Images News/Getty Images
Maternity Care Won't Be Required Under "Trumpcare"
Republicans released a bill to repeal and replace the Affordable Care Act on Monday evening, titled the American Health Care Act. It proposes several changes to existing healthcare policies, and the bill is reportedly similar to a draft that leaked a few weeks back. The bill keeps popular provisions, such as barring insurance companies from discriminating against individuals because of preexisting conditions, and things like the provision that continues to allow young adults to stay on their parents' insurance plans until they're 26 years old. But will maternity care be covered under "Trumpcare"? As it turns out, that coverage may not be protected under the new proposed healthcare plan.
According to the Los Angeles Times, "as of Dec. 31, 2019, ACA rules that required qualified health plans to provide hospitalization, maternity care, mental health services and other benefits would be sunsetted at the federal level." That means that maternity care currently covered by the Affordable Care Act, also known as Obamacare, will no longer be required to be covered by health care plans under the American Health Care Act. After that, states will have the authority to set these requirements instead. As the LA Times reported, "If a state removes maternity benefits, for example, that's likely to make maternity coverage, among other services, immensely expensive, if available at all." Of course, it's a state's and an insurance company's choice whether to provide maternity care and other essential services. Many companies could cover them, but the idea is that they won't be required as they were for the first time under Obamacare. (And insurers had previously charged women more just for being women and for potentially needing access to such services, even if they never got pregnant.)
Low-income women and mothers would be hit especially hard under the new plan, because according to Think Progress, "the proposed replacement bill includes big cuts to Medicaid, the government program that provides coverage for low-income Americans. It would phase out the Medicaid expansion under Obamacare, which extended coverage to more than 11 million low-income people, beginning in 2020."
But all women, mothers, and families could be affected by the proposed plan. Because the GOP plan eliminates minimum essential coverage provisions that Obamacare established, as the LA Times reported, insurers would no longer be required to offer services such as birth control and maternity care. Gynecological healthcare, including breast and cervical cancer screenings, would not be required to be covered either.
Twitter user @OhNoSheTwint joked, ""Trumpcare" gets rid of the requirement that plans cover maternity care so maybe it should be called Broscare before Hoscare." But the truth is, a loss of maternity care coverage is no laughing matter.
In particular, the new plan goes after a target that many Republicans have clashed with for a long time — Planned Parenthood. According to Vox, the bill, "would bar Planned Parenthood from receiving hundreds of millions of dollars in federal Medicaid reimbursements — the majority of the organization's federal funding." The money Planned Parenthood receives annually from the federal government pays for health services such as birth control for people who can't afford such services otherwise. By targeting Planned Parenthood, politicians and officials behind this plan are targeting any woman who may need their services.
Jeanne Whalen of The Wall Street Journal tweeted, "GOP plan scraps 'essential health benefits' at end of 2019. Kills requirement plans cover maternity care, mental health/substance abuse etc."
So women, particularly low-income women, will be harmed by the new American Health Care Act, but additionally, so will anyone seeking mental health care. What about when maternal health care and mental health intersect? Massachusetts General Hospital Center for Women's Mental Health reported that, "about 50 to 85% of women experience postpartum blues during the first few weeks after delivery." Some women seek mental health services in order to deal with their postpartum depression — but under the AHCA, both maternity care and mental health services won't be required to be covered at the federal level. This could spell disaster for many mothers and families.
The proposal the GOP has laid out to replace Obamacare could hurt women, particularly women who are or who seek to become mothers. Anyone concerned with maternity care not being covered under the AHCA plan should contact their representatives to vote and speak out against the proposal. Find yours here.