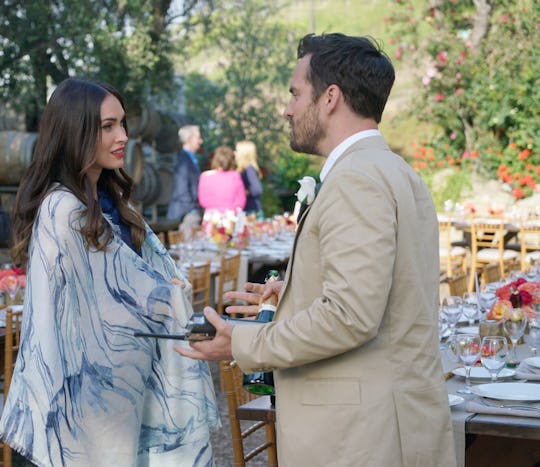 Adam Taylor/FOX
Will Megan Fox Be A Regular On 'New Girl'? Reagan Will Have A Big Arc In Season 6
When Zooey Deschanel was pregnant last year, Megan Fox stepped in as Reagan, the hot new roommate that took Jess' place in the loft while she went away on jury duty. Reagan was a little sassy, funny, and a perfect addition to the show. Her romance with Nick was also fun to watch and thankfully their somewhat awkward romance will continue because Reagan is coming back to L.A. eventually, but does this mean Megan Fox will be a regular on New Girl now? Unfortunately, this isn't looking like the case, but she will be sticking around in Season 6 for a while.
According to TVLine, Fox has signed on for a huge arc during the show's sixth season, which will last for at least eight episodes. However, due to Fox's own real-life pregnancy, we won't be seeing Reagan back in the loft for a little bit. It's unclear when exactly Reagan will return to the show, but we should be expecting her to grace us with her presence fairly soon. Now that CeCe and Schmidt are married and have bought their own home, they're going to be moving out of the loft, which leaves Nick, Jess, and Winston in charge of finding a new roommate. Thankfully Nick already had a solution to their problem: Reagan.
Reagan has already lived in the loft before, so she's familiar with the gang's adorable quirks, including how lovably weird Winston is. Plus, she'll need a place to stay in L.A. anyway, so why not have her move back into the loft? It just makes sense. The only issue is Jess' on-going feelings for Nick. She's trying to push any romantic inclinations for him aside and keep their relationship strictly in the friend-zone, but that's always easier said than done. But to her credit, Jess was the one who helped Nick get everyone on board with Reagan moving back into the loft in the first place. Of course, once everyone agreed, Nick started to have his own doubts and worried they weren't ready to take that next big step in their relationship. Thankfully, Nick has good friends and together they sent Reagan a text from his phone asking her on his behalf. And while we didn't get to see Reagan's response, it's most likely going to be a yes.
Whether or not Reagan moves back into the loft, she will definitely be involved in this season and obviously be playing a big role. No doubt Jess will have a difficult time handling this whole love triangle situation, but that's half the fun of New Girl. It'll be great to have Fox back on the show and I can't wait to see what will happen next with Reagan.