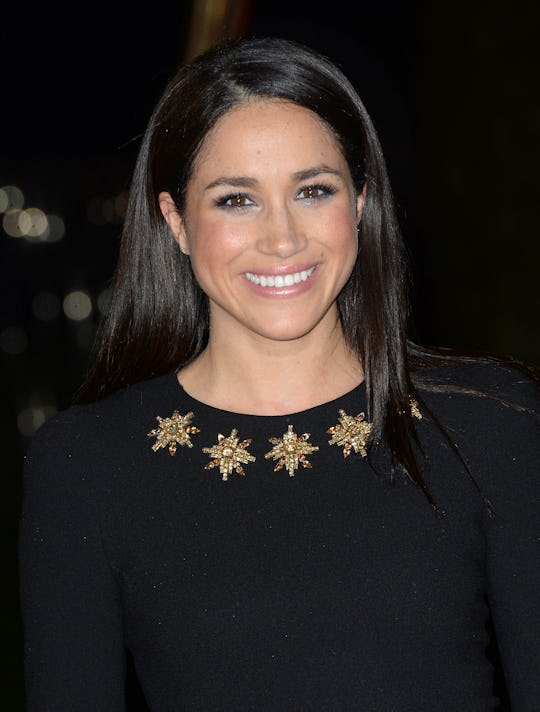 Zak Hussein/Getty Images Entertainment/Getty Images
Here's Why Meghan Markle Probably Won't Be At The 2019 Golden Globes
Though it seems the world has never seen more of Meghan Markle, despite her many years as an actress and TV show star, her life as a newly minted royal means that she's had to leave Hollywood behind. So with an awards show happening this weekend, will Meghan Markle be at the Golden Globes in 2019? It's hard to say, but it's certainly not impossible.
First and foremost, if Markle is going to appear at the Golden Globes, the likelihood of the world knowing about it beforehand is slim. The awards show, which will air on Sunday, Jan. 6, recognizes outstanding performances and production in television and film. However, given that Markle has since retired from her acting career and in place of it has taken on a slew of responsibilities as the Duchess of Sussex (and, lest we forget, soon-to-be mom) it's not probable that she or her husband Prince Harry will appear at the Golden Globes this year, though it also shouldn't be entirely ruled out.
The latter could be assumed because on Dec. 10, 2018, Markle did make a surprise appearance at the British Fashion Awards, as People reported. Given that this was also unannounced, it means that it's not completely impossible for her to show up to another awards show, but all in all, it's still probably unlikely she attend this upcoming one stateside.
The duchess would be a familiar face at the awards show; the last time Markle attended the Golden Globes was back in 2013, as Us Weekly reported. However, it's probably safe to assume that she'll sit this year's Globes out since she "politely turned down" an invitation to 2018's Emmy Awards with the rest of the cast of Suits, according to ELLE.
Given that the show isn't nominated for any awards this year, it could make it even less likely that she makes an appearance at this year's Golden Globes.
Kensington Palace was not immediately available for comment on whether Markle will attend.
Marrying into the royal family isn't all tiaras and tea parties. In fact, there is a significant amount of work that Markle is responsible for, as Harper's Bazaar reported.
For example, Markle is a patron of the Royal Foundation, which, according to People, means she will "have a role within the royals' ongoing mental health initiative, and she has been visiting various people in the local community and charity sectors as she prepares for her new work." Harper's Bazaar also reported that Markle is a commonwealth youth ambassador, and is also responsible for all of the appearances and events that her husband Prince Harry has to attend, such as the Invictus games, and the usual domestic and international relations work.
When the couple first got engaged, they did an interview with the BBC in which Prince Harry explained that he did understand the weight of responsibility that he was asking Markle to take on.
"That sense of responsibility was essentially from day one, or maybe a couple of months in, when I started to realize actually this is, I feel I know that I am in love with this girl and I hope that she is in love with me but we still have to sit down on the sofa," he told the BBC. "You know, I still have to have some pretty frank conversations with her to say what you are letting yourself in for it's a big deal. It's not easy for anybody. But I know at the end of the day, she chooses me and I choose her, and therefore whatever we have to tackle together or individually, it will always be us together as a team."
It seems that the comments were almost foreshadowing of what would come of their lives in the following years, as they are now deeply involved in travel, appearances and other work. Though this is undoubtedly exciting — and of course, what the couple hoped for in their relationship — but it does mean that most fans can expect Markle to scale back on Hollywood appearances. Be that as it is, there's no confirmation for Sunday's show, so we'll just have to wait and see.
After a very frustrating first birth experience, this Deaf mother wanted a change. Will the help of two Deaf doulas give the quality communication and birth experience this mom wants and deserves? Watch Episode Four of Romper's Doula Diaries, Season Two, below, and visit Bustle Digital Group's YouTube page for more episodes.