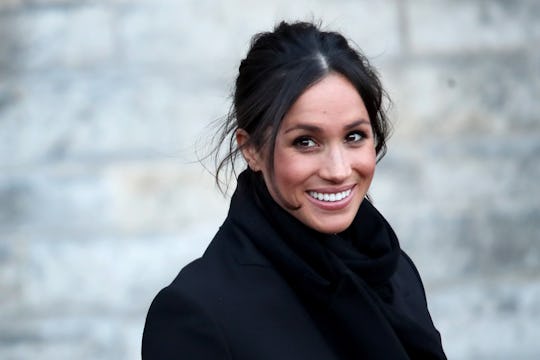 Chris Jackson/Getty Images Entertainment/Getty Images
Will Meghan Markle Be An "HRH"? Here's A Breakdown Of The Royal Rules
Americans (and some Brits, tbh) tend to be pretty confused when it comes to British royal titles. Case in point: did you know that "Princess Diana" never existed? More on that later, but for now, let's talk about the current and future members of the family, and tackle the topic of whether Meghan Markle will be an HRH once she marries Prince Harry this spring. HRH, if you weren't aware, stands for Her Royal Highness. It is, as ABC News once described, "sort of magic," requiring others to bow or curtsy to you. And it's not handed out lightly.
Up until 2002, the Church of England disapproved of remarriage after divorce, so when King Edward VIII chose to become American socialite Wallis Simpson's third husband in 1936, he had to abdicate the throne. After being retitled the Duke of Windsor by his brother and successor, King George VI, he assumed that his own HRH would be shared with his new bride. But George's wife and mother convinced him to withhold the honor from his sister-in-law, according to ABC, so the Duchess of Windsor got stuck with the lower-level honorific "Her Grace." Rude. But now that divorcées are A-OK, Harry can marry Markle, and pass on that HRH.
Markle will automatically take on her husband's name and title upon marriage, making her HRH Princess Henry of Wales, according to Royal Central. Literally his first name. Crazy, I know. That also means that her future sister-in-law isn't actually Princess Kate; she's officially known as HRH Princess William of Wales. Alternatively, if you want to sound less stuffy and patriarchal, you can also call her Catherine, the Duchess of Cambridge. And of course, that means Diana was really HRH Princess Charles of Wales until her 1996 divorce, and Diana, Princess of Wales (no HRH) thereafter.
Diana's stripping of her HRH was absolutely intentional, too; Queen Elizabeth delivered an official proclamation just one week before her son's 1996 divorce stating that "a former wife (other than a widow until she shall remarry) of a son of a Sovereign of these Realms ... shall not be entitled to hold and enjoy the style, title or attribute of Royal Highness." That's gotta hurt. She's expected to bestow additional titles on Harry and Markle once they're wed, as she did with William and Catherine. The most likely option is said to be the Duke and Duchess of Sussex.
Interestingly, if Harry and Markle have children, they won't rank very high, at all. That's because of a Letters Patent issued by King George V in 1917, which stated that "the eldest living son of the eldest son of the Prince of Wales shall have and at all times hold and enjoy the style, title or attribute of Royal Highness with their titular dignity of Prince or Princess." Confusing, yes. But stick with me: that refers to little Prince George, the eldest son of William, who is the eldest son of Charles. Nothing about the spare heir in that ruling.
However, in 2012, when Catherine was expecting — but before she knew the baby's sex, presumably — Elizabeth issued her own Letters Patent, changing that rule to apply to "all the children of the eldest son of the Prince of Wales." That's why his sister is called Princess Charlotte, rather than Lady Charlotte, and if she'd come first, she could have had the crown one day. So there's nothing stopping the queen from issuing another update bestowing heftier titles on her future great-grandchildren (or Charles, once he ascends to the throne, for that matter). Otherwise, they'll be known as "Lord or Lady (forename) Mountbatten-Windsor," according to the Independent, which is a real mouthful. Fingers crossed on their hypothetical behalf!
Check out Romper's new video series, Romper's Doula Diaries:
Watch full episodes of Romper's Doula Diaries on Facebook Watch.