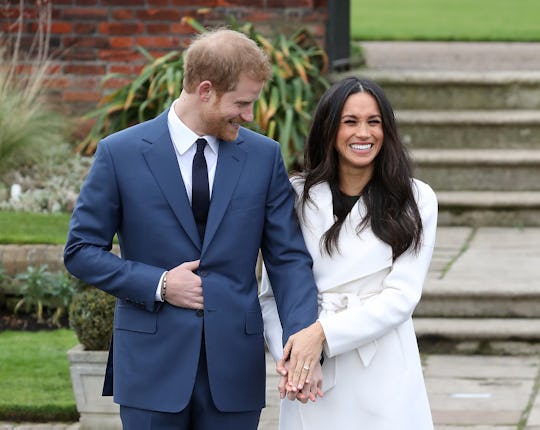 Chris Jackson/Getty Images Entertainment/Getty Images
Turns Out, Meghan Markle Is About To Become More Than A Princess
Early Monday morning, after a long Thanksgiving Day weekend, the universe granted us all an early holiday present with the joyous news that Prince Harry of Wales proposed to successful American actress Meghan Markle. As details continue to emerge regarding their upcoming nuptials, fans of the Royal Family can't help but wonder: will Meghan Markle become a princess? Her future title is still, according to recent reports, up for discussion and somewhat controversial. Still, even a shroud of mystery surrounding her future fit within the Royal Family can't get in the way of the family's, and the world's, happiness.
According to The Telegraph, Markel will be informally known as "Princess Meghan." However, that will not, and cannot, be her title due to Royal protocol. And that, my friends, is why distinguishing Markle within the Royal Family might get a tad complicated. The Telegraph explained that, according to tradition, the Queen, on the morning of their wedding, "will bestow a title on Harry and Ms Markle." The same occurred in 2011, when Kate Middleton became the Duchess of Cambridge after she married Prince William. While no one will know, for sure, what Markle's official title will be until the morning of her wedding day, The Telegraph reported that "the title of Duke and Duchess of Sussex is the most likely choice for the newlyweds, according to Royal watchers with other names being dogged by bad luck."
So, what exactly does one mean by "bad luck"? Well, according to The Telegraph, Duke and Duchess of Clarence is off the table for a variety of rather grim reasons:
George Plantagenet became the Duke of Clarence in 1449, and was convicted of treason against his brother, Edward IV. He was then imprisoned and sentenced to death. Another Duke of Clarence was the eldest son of Edward VII, and was dogged throughout his life by rumors about his intellect, sexuality, and mental health. He was also suspected of being Jack the Ripper.
So, yeah. Duke and Duchess of Clarence is a no go, my Royal Family fans.
The Telegraph reported that Genealogist Charles Kidd, editor of Debrett's Peerage & Baronetage, told the Press Association that Duke of Sussex is the most likely title to be given to Harry on the day of his wedding. "They're quiet limited in the titles that are available. The Duke of Success is the front-runner without any doubt," Kidd said.
In terms of the new order of succession, Prince Harry and Meghan Markle won't be taking the throne any time soon, impending nuptials or not. According to The Telegraph, the Queen, 91, is the longest reigning monarch Britain has ever seen, ruling for more than 65 years. Her son, and heir to the throne, is the Prince of Wales, who is 68 years old. When he eventually succeeds the Queen, he will be the oldest person to be crowned in British history, according to The Telegraph. Next in line is the Duke Of Cambridge, Prince William, followed by his first-born son, Prince George.
Prince Harry and Markle would only take the throne after Princess Charlotte and the new Prince and/or Princess of Cambridge, as the Duke and Duchess of Cambridge announced they were expecting their third child in September of this year. So, when all is said and done, Prince Harry and Markle will be sixth in line for the throne, which probably doesn't bother either in the slightest. Prince Harry told Newsweek in June of this year that he "doesn't just want to shake hands and say hello," referring to the duties of a king. "Is there any one of the Royal Family who wants to be king or queen? I don't think so, but we will carry out our duties at the right time."
Prince Harry told Newsweek about the kind of life that he does want to have: "But I am determined to have a relatively normal life, and if I am lucky enough to have children, they can have one too. Even if I was king, I would do my own shopping."
It looks like Prince Harry is one step closer to the "normal life" he craves. Well, as normal a life any member of the Royal Family can enjoy, of course.
Check out Romper's new video series, Romper's Doula Diaries:
Watch full episodes of Romper's Doula Diaries on Facebook Watch.