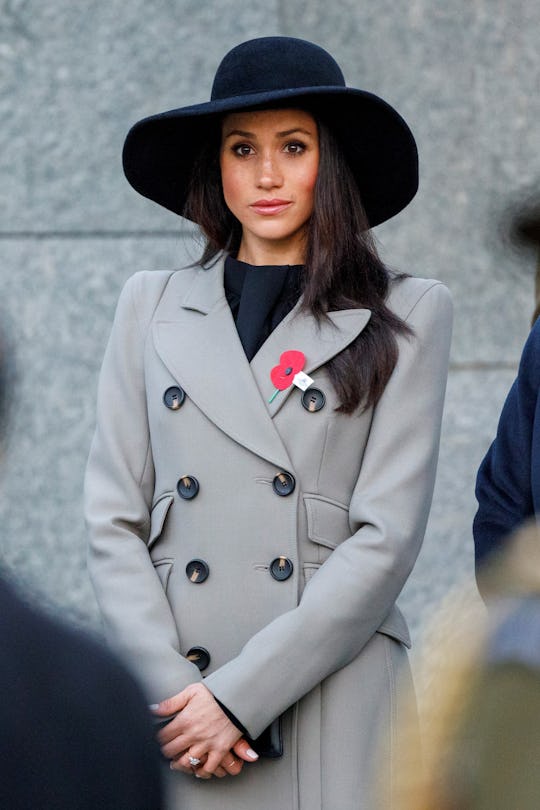 WPA Pool/Getty Images Entertainment/Getty Images
Here's What Meghan Markle Has To Do To Become A UK Citizen
At the royal wedding, Meghan Markle will gain a new husband, a new family, and a new royal title. And now that she's going to marry a Brit and live in England more permanently, many are wondering: Will Meghan Markle become a U.K. citizen?
Yes, Markle intends to become a U.K. citizen — and she will have to follow the same citizenship rules as any other American who marries a U.K. citizen and moves to the country, according to the BBC. Jason Knauf, Prince Harry's communication's secretary, told the BBC that Markle would be "compliant with immigration requirements at all times."
He said that even though the process takes several years, Markle plans to go through it: "I can also say she intends to become a UK citizen and will go through the process of that, which some of you may know takes a number of years."
So how does the process of becoming a British citizen work? For those who are married to a British citizen, there are several requirements, which are detailed on the United Kingdom's government website. For starters, applicants must be 18 years of age or older; they must be of "sound mind" and able to think for themselves; they must have no serious criminal record; and they must be able to prove their knowledge of the English language.
Additionally, British citizenship applicants must take a Life in the UK Test, a 45-minute test comprised of 24 questions "about British traditions and customs," according to the government's website. The test must be taken in-person at a test center. Also, applicants must either have a permanent residence card or have been granted unlimited stay in the U.K. That shouldn't be a problem for Markle — last month, the actress was spotted at the VFS Global UK Visa Application Centre in Chicago, TMZ reported. The outlet added that she was there finalizing her application for a visa to live in the U.K.
And finally, applicants must have been living in the U.K. for three years before their application is received. Before getting engaged in November, Markle had already been living with Harry in Nottingham Cottage on the Kensington Palace grounds, notes People. The exact date she permanently relocated to the U.K. is unclear, but it's safe to say her application will be received promptly three years after that day, and it seems pretty likely that she will pass the exam.
All that being said, there's still the question of whether Markle will keep her U.S. citizenship once she eventually becomes a U.K. citizen. The issue is rather complicated, as explained by the Washington Post. If Markle retains her U.S. citizenship, she will still have to file U.S. taxes every year. And U.S. citizens who have more than $300,000 in assets (which, between Markle's acting career and Prince Harry's riches, she will) must fill out a tax form revealing the details of their fortune. That information is technically private, but there is always a chance that it could leak, or the IRS could decide to audit the royal family, Dianne Mehany, a tax lawyer, explained to the Washington Post.
Specific information about the royal family's riches is hard to come by, and Markle's U.S. tax forms could certainly change that. In fact, David McClure, who wrote the book Royal Legacy: How the royal family have made, spent and passed on their wealth, told the Washington Post that no one — not even the queen — really knows exactly how rich the royal family is.
Whether or not Meghan Markle decides to eventually surrender her U.S. citizenship or become a dual citizen, it's clear that she is excited for her new life as a citizen of the U.K. along with her new husband.