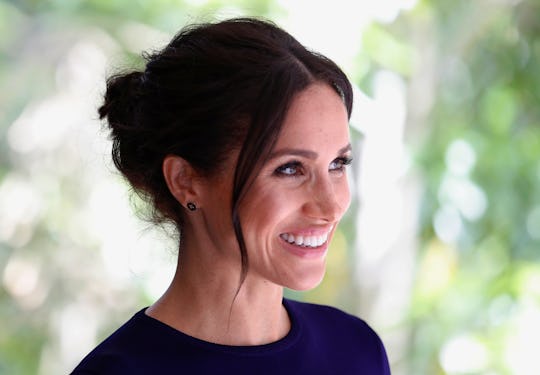 Pool/Getty Images Entertainment/Getty Images
Will Meghan Markle Celebrate Thanksgiving As A Royal? It's Quite Possible
When American actress Meghan Markle married the United Kingdom's Prince Harry earlier this year, she gave up quite a few things from her "old life" in exchange for her married life. She gave up her career as an actress in exchange for humanitarian work, gave up living in the United States to live in England, and now has to follow royal rules and protocol that she never had to before. Since Markle gave up so much, of course people are wondering if she gave up celebrating some traditional holidays she previously celebrated in the United States as well. So, this year, people will definitely be wondering if Meghan Markle will celebrate Thanksgiving as a royal — but the answer to that question is entirely unclear.
It should be pointed out that Markle hasn't confirmed or denied that she will be celebrating the holiday this year — so everything is purely speculative. It's quite possible that Markle will celebrate Thanksgiving this year, but at the same time, it is also possible that she won't — and there is a strong argument for both of these things.
Some people think that Markle will celebrate Thanksgiving this year, according to Delish. The expecting mother does not have any official royal events planned for Thanksgiving weekend, according to Delish, meaning she has plenty of time to spend at home celebrating the holiday. Not to mention, Markle is a huge fan of Thanksgiving — Markle once had a photo of her celebrating the holiday on her now defunct Instagram in 2016, according to E! News and wrote that the holiday allowed her to give thanks to "so many things."
Although Thanksgiving isn't traditionally celebrated in the United Kingdom, according to the Telegraph, it might not bother Markle. During her wedding, Markle was keen on combining American wedding traditions with traditions from the United Kingdom to make her day super special. And she could do the same with Thanksgiving. Since Markle has been keen on combining her traditions, celebrating Thanksgiving isn't out of the question.
But on the other hand, it's very possible that she won't be celebrating Thanksgiving this year. Last year, Markle didn't celebrate Thanksgiving in the United Kingdom, according to E! News (she was only dating Prince Harry at the time). Instead, Markle opted to head to California, to spend the holiday with her mom, Doria Ragland (without her boyfriend there). At the time, Markle was still filming her T.V. series, Suits, and living in Toronto, according to E! News. Just a few days after she celebrated Thanksgiving last year, Markle and Prince Harry announced that they had gotten engaged, according to Vanity Fair. Because Markle and Prince Harry don't have an upcoming planned trip to the United States, according to Cheat Sheet, it's highly unlikely they'll make a trip to the states to celebrate the holiday with friends and family.
As previously stated, Markle is now used to giving up a few parts of her old life and adopting new British traditions. So, if she doesn't celebrate Thanksgiving this year, she can add that to the list. It's also possible that Markle might not celebrate Thanksgiving this year, but subtly acknowledge it. Instead of celebrating 4th of July during the summer (which is a traditional American holiday, like Thanksgiving), Markle "nodded" to the holiday by wearing a dress by an American designer during an official royal appearance on the day, according to Vogue.
So, even if she doesn't have a traditional Thanksgiving feast (complete with jellied cranberry sauce), it's also possible she could pay tribute to the holiday in her own way — whether that's wearing an American designer or eating a turkey sandwich for dinner.
Because Markle's Thanksgiving plans are so unknown, it's likely that royal watchers will have to wait and see what she does for the holiday. But, even if Markle has to give up celebrating Thanksgiving, she won't be sad for too long — Christmas is right around the corner, and if there is a holiday that the royal family loves celebrating, it's Christmas, according to Travel + Leisure.
The Queen of the United Kingdom (Prince Harry's grandmother) typically hosts family members in her private home for the holiday, according to Travel + Leisure, where famous family members gather to share meals and presents. This is a holiday that is full of tradition, according to Good Housekeeping, and is super impressive.
So, if Markle is disappointed about missing Thanksgiving, Christmas will definitely make up for it. But something tells me that Markle will be so happy, no matter how she spends her Thanksgiving holiday.