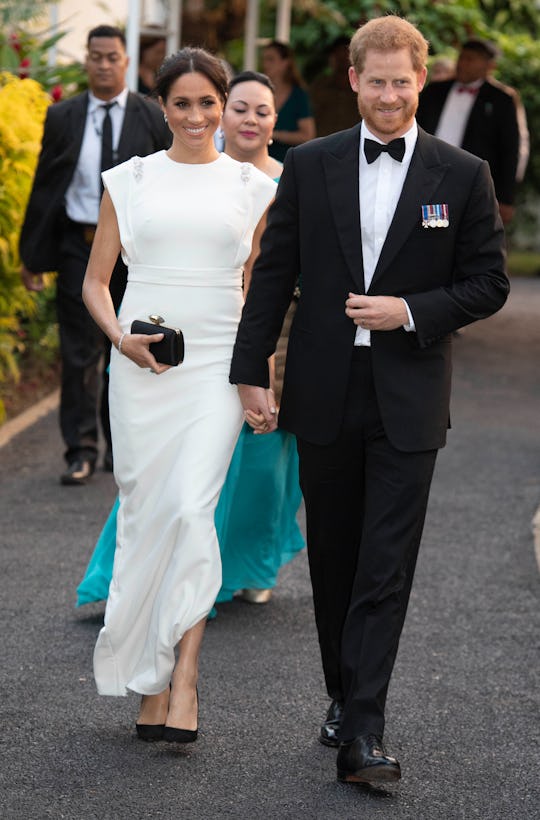 Pool/Getty Images Entertainment/Getty Images
Here's Who Meghan Markle & Prince Harry May Choose To Be Their Royal Baby's Godparents
In one of the happiest news moments of the year, one of the most famous couples in the world announced earlier this month that they're expecting their first baby together. The balloons had barely been inflated for the bi-national celebration before fans of the royal couple were likely already starting to wonder: Will Meghan Markle and Prince Harry's baby have godparents? And if so, who will they be?
Prince Harry and Meghan Markle are both members of the Church of England, according to W Magazine, so it is very, very likely that they will be choosing godparents for their new baby when he or she arrives in spring 2019. In fact, that's probably a discussion they're already having. Though Prince Harry did tell interviewer Dylan Alcott during this interview for the Invictus Games that he and the Duchess of Sussex do not have godparents picked out just yet. (See 2 minutes 35 seconds in.)
While they may not have specifics figured out yet, they'll likely be following a few guidelines. For instance, the church advises at least three godparents, two of the same sex and one of the opposite sex of the child, according to its website. And the church doesn't take the role lightly or consider it simply ceremonial. On the site, the church advocates that anyone serving as a godparent be willing to commit to spending time helping the child grow spiritually, praying for the child, and be prepared to give time to talk about big life questions.
Among the royals, it used to be customary for older family members or royals from other nations to be chosen as godparents, according to Town & Country. However, Prince William and Kate Middleton have broken with that tradition, sticking to friends, according to ELLE, which explains why Prince Harry isn't a godparent to any of his brother's children.
If the Duke and Duchess of Sussex follow the lead of Prince William and Middleton, that means Prince Harry and Markle could be turning to their circle of friends to look for the right people to help guide their child.
According to Cosmopolitan, some potential godparents include Markle's friends Jessica Mulroney, Serena Williams, Lindsay Jill Roth, as well as Benita and Darren Litt, for whom Markle is the godmother to their two daughters. On Prince Harry's side, Cosmopolitan suggested school friends like Zoe and Jake Warren, and Tom Inskip and Lara Hughes-Young.
But with Markle's background in television, it's possible some celebrities might play into the mix, too. For instance, The Mirror reported that during an August vacation to George Clooney's Italian getaway, Prince Harry and Markle may have asked he and his wife Amal to serve as godparents. ELLE also suggested a couple of Markle's Suits co-stars including Patrick Adams and Sarah Rafferty.
There's actually plenty of room for almost all these options. After all, Prince George has seven godparents, Princess Charlotte has five, and Prince Louis has six, according to the BBC. Even Prince Charles had eight godparents, according to USA Today. So the world may see a mix of familiar faces and more private friends at the baby's eventual christening.
Regardless of who is chosen for the honor, this is one child that is sure to receive lots of love.