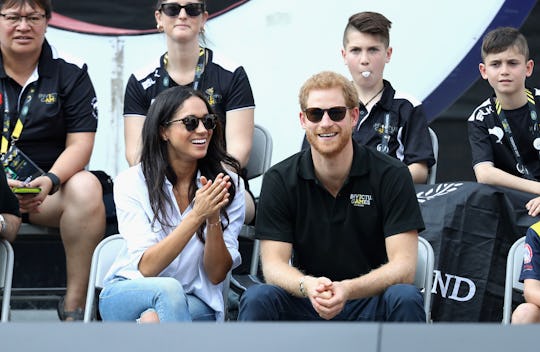 Chris Jackson/Getty Images Entertainment/Getty Images
Will Meghan Markle's Acting Days Be Over After She & Prince Harry Tie The Knot?
Monday was the day that all Suits and royal family fans have been waiting for: Prince Harry and Meghan Markle are officially engaged. So now that she's getting hitched to an IRL prince, will Meghan Markle stop acting or will she still be gracing us with her presence on-screen? For now, at least, it looks like Markle will be focusing on planning for the wedding and her other humanitarian efforts, which she has long pursued.
Most people know Markle as Rachel on Suits. Last week, Us Weekly reported that it was the last day for Markle on set. Her television BF, Patrick Adams, is also reportedly leaving the show, though USA hasn't confirmed his departure, according to Deadline. The on-screen couple wrapped up Season 7 earlier this month by filming their wedding (finally!) in a Toronto hotel room. Although the future of Pearson, Spector, Litt remains a mystery, Markle is definitely out of the picture now that the season's wrapped.
The show films in Toronto and a source close to the 36-year-old actress told Us Weekly:
When Suits is over, so is Meghan's life in Toronto. It's the end of a really precious era so she's definitely sad to see it come to an end, but she's also really excited about starting a new chapter with [Prince] Harry.
According to various news sources, Markle has been spending most of her time outside of Toronto with Harry and that she plans to be all settled come early December. Given the huge announcement on Monday morning, everything seems to be going as planned.
Markle said as much in an interview Monday afternoon with her fiancé. She told the BBC that she was ready for something new. Markle said, "I don't see it as giving anything up. I just see it as a change. It's a new chapter."
Which is really a great way to look at all the changes coming up in her life. "Keep in mind I've been working on my show for seven years, so we're very, very fortunate to have that kind of longevity on a series and once we hit the 100th episode mark, I felt, 'I've ticked this box and I feel very proud of the work I've done there, and now it's time to work with [Harry] on a team," Markle added, according to E! News.
This is not a new thing for Markle. Last year, she was honored by Vanity Fair for her philanthropic work. She has been an ambassador to the United Nations and has attended the One Young World Summit since 2014. At the time, she wrote on her now defunct lifestyle website The Tig:
When I was asked to be a Counsellor at One Young World, my response was a resounding "yes." One Young World invites young adults from all over the world who are actively working to transform the socio-political landscape by being the greater good. They are delegates who are speaking out against human rights violations, environmental crises, gender equality issues, discrimination and injustice. They are the change.
It's not like Markle is just "getting into" philanthropy because she's now going to be a member of the British royal family — it's something that she and Harry likely bonded over. Harry does extensive work to tackle mental health stigma with his organization Heads Together. Philanthropy and humanitarian work also just comes with being a member of the monarchy.
Harry's mother, Princess Diana, was so dedicated to her philanthropic work that it's become a large part of her legacy. Harry told the BBC today that he was excited that Markle was ready to take all of that on with him, explaining:
We still have to sit down on the sofa and I still had to have some pretty frank conversations with her and said what you're letting yourself in for— it's a big deal. It's not easy for anybody, but I know that she chooses me and I choose her and whatever we have to tackle together or individually will always be us together as a team, and I think she's capable of anything.
So who knows if Markle will take a part in a movie or TV show in the future? If anything, it sounds like she'll be more free to do other kinds of work that mean just as much to her and will have an even bigger platform to do it with.
Check out Romper's new video series, Romper's Doula Diaries:
Watch full episodes of Romper's Doula Diaries on Facebook Watch.