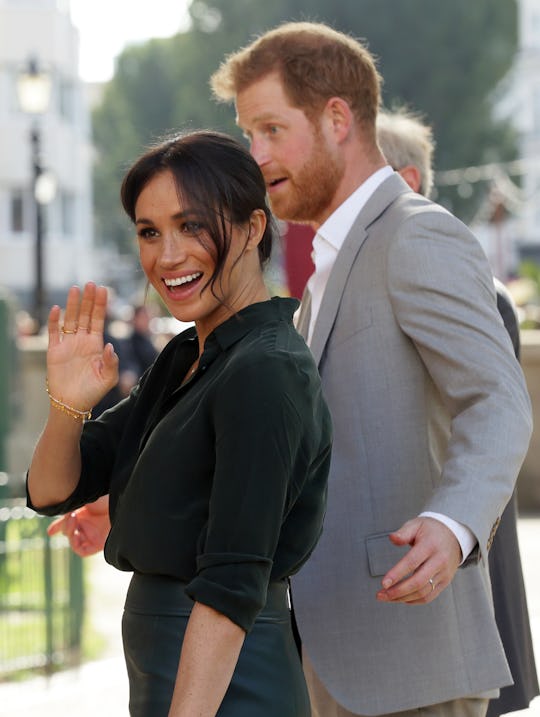 WPA Pool/Getty Images Entertainment/Getty Images
The Palace Responded To Concerns About Pregnant Meghan Markle Traveling To Countries With Zika
Another royal baby is on the way! Kensington Palace announced Monday that the Duke and Duchess of Sussex are expecting their first child together this spring, and it's *seriously* exciting news. But with the couple currently overseas on a royal tour, some have wondered whether the duchess will be at risk of contracting the Zika virus during her travels and if Meghan Markle is traveling to countries with Zika while pregnant.
Meghan and Harry are currently in Australia, though they are also scheduled to make stops in Fiji and Tonga before heading back home — both of which have been designated by the Centers for Disease Control and Prevention as being areas where Zika-carrying mosquitos are prevalent, according to People. Yet after reportedly seeking medical advice ahead of their trip, Kensington Palace confirmed that they will indeed still be making the visit as planned.
Though the Zika risk was likely not a huge issue when their trip was initially planned, the news of Meghan's pregnancy does complicate matters a bit: the Zika virus can cause serious birth defects, including microcephaly, according to the CDC. But the good news is that the overall risk is still low, and given that there are also a number of steps she can take to minimize her exposure, it sounds like they were given a cautious all-clear.
Though the palace likely deliberated the decision to stick to the original plans for the tour, in a tweet Monday, royal reporter Rebecca English wrote that a rep for Meghan and Harry confirmed that the couple met with experts ahead of leaving for their trip, and that they ultimately decided it would be safe to proceed as planned:
That doesn't mean that they don't plan on making at least some modifications for the baby's safety, though. Royal reporter Omid Scobie also tweeted Monday that Meghan will not attend an "early morning Fiji War Memorial engagement in Suva or the Colo-i-Suva forest site," as originally planned, and that Harry will instead go alone. And that makes a lot of sense: Zika is primarily transmitted through infected mosquitoes, so by avoiding places where mosquitoes are more likely to be prevalent, Meghan will already be taking a big step to avoiding the virus entirely.
But that's not all she can do when it comes to ensuring her safety: although the CDC recommends that women who are pregnant — or who are planning on becoming pregnant — avoid traveling to Zika zones entirely, those who must travel should first consult their health care provider (which it sounds like Meghan has done), and then take precautions to avoid mosquito bites. That includes using EPA-registered insect repellents, wearing long sleeves and pants (ideally treated with permethrin, an insecticide repels mosquitoes), running air conditioning indoors and ensuring windows and doors have screens on them, and sleeping underneath a permethrin-treated bed net.
But even though Meghan clearly runs the greatest risk when it comes to the Zika virus, Prince Harry will also have to be careful — men can also contract the Zika virus, and can pass it along to their pregnant partners unintentionally. As a result? The CDC recommends that couples who have traveled to an area where Zika virus is present should "use condoms from start to finish every time they have sex," or, alternatively, that they avoid sex entirely for the duration of the pregnancy, "even if the traveler does not have symptoms of Zika or feel sick."
Even without the additional concerns posed by the virus though, there's no question that Meghan's pregnancy is coming at a pretty tricky time. Though she is thought to have passed her first trimester — according to Vanity Fair, the Duchess has already had her 12-week scan, and is "feeling well" — it's not like she'll have much of an opportunity to sit back and put her feet up. As TODAY reported Monday, Meghan and Harry are set to attend 76 royal engagements during their 16-day tour, which will bring them to four different countries. In other words? Lets just hope she isn't also plagued by any late-onset morning sickness.
Of course, any potential Zika risks aside, Meghan and Harry's baby news rounds out a pretty spectacular year for the couple. And despite their grueling travel schedule, having the opportunity to take their first in-depth overseas tour as a couple while also revealing that they're about to be parents has to be incredibly exciting.