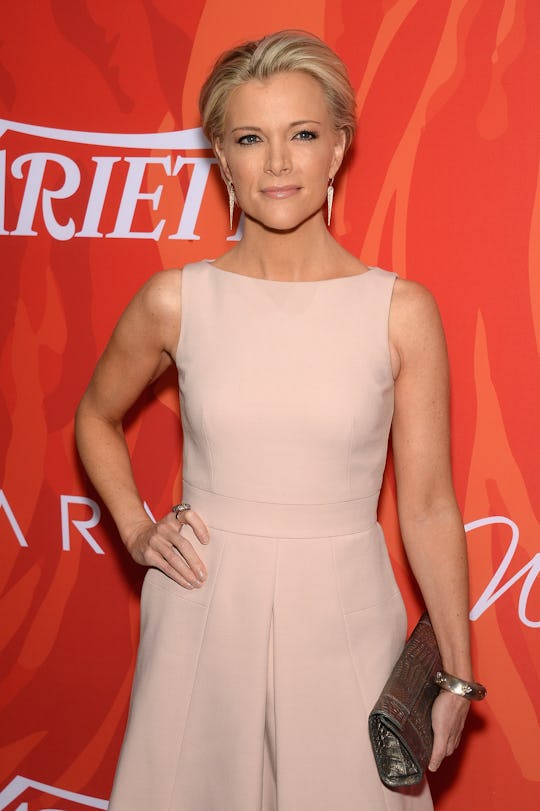 Andrew Toth/Getty Images Entertainment/Getty Images
Will Megyn Kelly Be At The Final Presidential Debate? She Covered The First Two
Since August 2015, Fox News anchor Megyn Kelly and Republican presidential nominee Donald Trump haven't been on the best terms. One question Kelly asked Trump during the primary prompted a feud that's lasted for more than a year. Now that Election Day is almost here, there's one more major chance for Kelly and Trump to get some face time. Will Megyn Kelly be at the final presidential debate? She'll be covering the debate for Fox News.
The final presidential debate is scheduled for 9 p.m. Eastern Time on Wednesday, Oct. 19 at the University of Nevada, Las Vegas, according to the Washington Post. Returning to the format of the first, the third debate runs for 90 minutes; each 15-minute segment zeroes in on a specific topic. Candidates get two minutes each to respond to the segment's introductory question, but the rest of the time can be used for interaction with the moderator and one another. Though multiple networks are set to air the debate, Fox News is set to host with anchor Chris Wallace serving as moderator. Wallace told Fox News Insider that he wants to keep the attention on Trump and Democratic presidential nominee Hillary Clinton during the final presidential debate: "If people say, 'it was a great debate and I don't remember you being there,' I will have done my job."
Though she won't serve as moderator, Kelly's voice will definitely be heard on debate night. Kelly and Special Report's Bret Baier are scheduled to anchor coverage of the final presidential debate. Then, at 11 p.m. Eastern Time, Kelly will host a special edition of The Kelly File. At both Hofstra University and Washington University in St. Louis, Kelly co-anchored Fox's primetime debate coverage with Baier and continued the conversation with post-debate episodes of The Kelly File, according to press releases from Fox News.
While moderating the first Republican presidential debate during the primary, Kelly famously asked Trump about his history of using insulting phrases to describe women, ABC News reported. After the debate, Trump tweeted that Kelly "really bombed" in her role as moderator and, during an interview with CNN, said "There was blood coming out of her eyes, blood coming out of her wherever." Kelly did her best to avoid escalating the situation, but Trump kept tweeting.
Now that Trump is answering for recently-uncovered derogatory comments about women, it looks as though Kelly's question during the primaries is more relevant than ever.