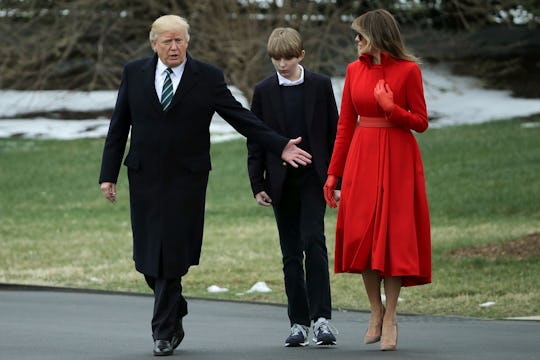 Chip Somodevilla/Getty Images News/Getty Images
Melania & Barron Trump's Mar-A-Lago Travel Plans
President Donald Trump loves his trips to Mar-a-Lago, his family owned estate and golf course in Palm Beach, Florida. Trump's trips to Mar-a-Lago, or the "winter White House" as Trump lovingly refers to his golf course, have turned into a weekend refuge for the president. In fact, Trump has spent half of his weekends since the inauguration there. But, once they've moved to D.C. for good this summer, as reports have indicated, will Melania and Barron Trump travel to Mar-a-Lago with the president as well?
The president's wife and youngest son, who is 11 years old, have spent the past three months of Trump's presidency in Trump Tower in New York, while Barron finishes out the school year. In June, Melania and Barron will reportedly move to into the White House in Washington, D.C., according to Town and Country. Being the president's son surely has its perks — such as unlimited rides on Air Force One, top security detail, and being the "first son" (and all that entails in terms of special access to big events and everything else). Although Barron is still in grade school, and will eventually start up school again in the fall at a new academy, he does have his weekends free to do whatever he pleases. So are frequent Mar-a-Lago trips on the agenda for the youngest Trump son too?
It doesn't seem like he will be traveling as frequently as his father does — but he and his mother do make the occasional appearance there already, so it's probably safe to assume they'll be taking Air Force One down to Florida from time to time going forward as well.
In the past three months that Trump has been in the White House, Barron has only visited Washington D.C. one time, according to TMZ. Barron's first trip to the White House last weekend since the Presidential Inauguration was only a pit stop — in fact, he and his mother stopped by Washington D.C. on their way to Mar-a-Lago. According to Politico, the family is spending Barron's spring break at the resort.
While Barron has only visited Mar-a-Lago a few times since his father's inauguration, Melania has visited Mar-a-Lago a bit more frequently and has even made appearances at resort events without her husband. Trump, meanwhile, has visited Mar-a-Lago five separate times since taking political office — and it is reported by Politico that he will frequently visit Florida until Mother's Day weekend in May. But while Melania and Barron might be looking for a weekend getaway or to spend family time together, Trump's visits to Mar-a-Lago have been a little more politically focused. The president has hosted different world leaders and conducted meetings at the estate since taking office.
Despite making random appearances, it is just unclear how frequently Barron will be heading down to Florida with his mother. It is tradition for the privacy of first children to be respected, with the hopes that they will stay out of the spotlight. Barron is no exception to this tradition, of course. Here's hoping he'll get a bit of sun and relaxation too — because being first kid has it's own set of stressors.