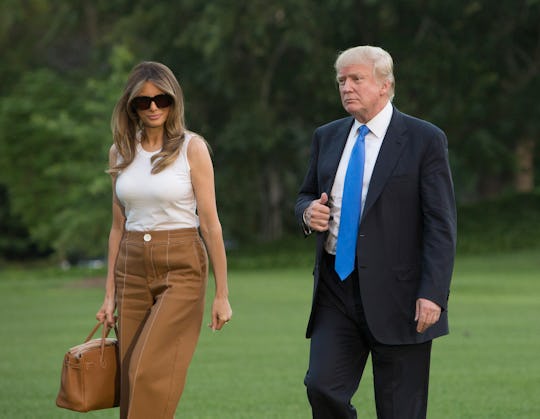 Pool/Getty Images News/Getty Images
Melania Trump Is Redecorating The White House
Nearly five months into her husband's White House tenure, Melania Trump has finally joined President Trump, moving to Washington, D.C. with their 11-year-old son Barron. Given her own fashionable history, many are wondering: Will Melania Trump redecorate the White House to suit her own style? There are some rules regarding what can and can't be done at 1600 Pennsylvania Avenue, of course, but Melania has been planning her stylistic vision for awhile now.
Some things can be changed, but others are set. For example, the Obamas remodeled a bit to create more privacy for their oldest daughter, Malia, so construction changes of that nature are sometimes permissible. Historic White House rooms, however, must be preserved and can't be altered.
So why the belated change of address for Melania and Barron? The Trumps were reportedly waiting for Barron to finish school before they made the full-time switch from New York City to D.C. President Donald Trump shared with Bloomberg in May that Barron was admitted to a "good school," though he wouldn't reveal exactly which one his son would attend in the fall (that's not unusual, as privacy is paramount for first kids).
While waiting for Barron to wrap up his studies, Melania had a bit more time to prepare. Back in February, the first lady hired interior designer Tham Kannalikham to make the White House a home. Melania "has a deep appreciation for the historical aspects of the White House," her senior adviser insisted, noting that, "with Tham's traditional design and expertise, they are focusing on a seamless integration of elegance and comfort." Not sure what exactly that might look like? Think "18th-century buildings and influences from French, English, American, and Irish culture," Vanity Fair explains.
A profile by Architectural Digest affirmed Kannalikham's traditional design style which, for the most part, is sealed by a private website and social media accounts. Formerly employed by Ralph Lauren Home, her "cocktail-party sophistication," the magazine postulated, could mesh perfectly "with historic fabric patterns and White House antiques."
While "preparing the residence," sources shared with NBC News, Melania's been busy redecorating the private quarters in accordance to the family's tastes and needs. But past statements from President Donald Trump suggest that maybe there isn't much to be done at all. "If I were elected I would probably look at the White House, and maybe touch it up a little bit," he reasoned. "But the White House is a special place, you don't want to do much touching," Donald affirmed.
Many are eager to see what the Trumps do with the place, hoping that the first family will share their new digs with the rest of the country. Melania's most recent tweet focused on the gorgeous view of the Washington Monument ahead of her, and not the inside decor, but to be fair they're just settling in. As things get a bit more comfortable, maybe she'll be willing to show off the revamped design.